Whether you run an online, in-person, or hybrid business, drawing buyers to your products is key. It all starts with building relationships with your potential customers. 
With billions of active daily uses, social media platforms are essential to connecting with — and selling to — your customers. The process of identifying, marketing to, and driving sales through social media is known as "social selling." In this article, you'll learn all about social selling, how to develop this marketing strategy, and some best practices to properly attract the right customers.
Social selling is the practice of developing relationships with consumers on social media to bring new customers to your business. 
What's the difference between social selling and social commerce?
While they might sound very similar, there's a notable difference between social selling and social commerce. Social selling is a marketing strategy that promotes your business's products or services on social channels. Social commerce, on the other hand, involves directly selling products on social media platforms. It covers the buying process for Facebook Shops or Instagram Shops from which customers can purchase a brand's products directly on the platform or through their e-commerce website.
Why You Should Implement Social Selling
Social selling is a newer marketing tactic, and it's proven to be more than a trend — it's predicted to generate $1.2 trillion in transactions annually by 2025. As a result, many sales teams are adopting social selling within their long-term marketing strategies. Social selling gives you an alternative to traditional approaches such as digital advertisements or email marketing.
Social selling also adds an extra personal touch that connects your brand with consumers. Liking, sharing, and commenting on users' posts boosts your brand's relatability, leading to social selling success. These actions build relationships between your brand and consumers. As users see your brand name and comments, they'll be introduced to, or reminded of, your brand. This engagement can spark interest in your products.
Four Benefits Of Social Selling
1. Learn about consumers' needs
Once you start scrolling through social media, you'll see tons of users' interests and needs. This way, you'll learn about common goals, desires, and pain points that everyday consumers are looking to solve.
These insights can give you a good idea of who your potential customers are before you start reaching out to them. Use this information to personalize your first interactions with them by offering helpful content like tips or tricks that make their lives easier. This social selling tactic helps customers see your brand as presenting a useful solution to their pain points, and not just selling to them all the time.
2. Show your brand's value
As you amplify your brand's social media presence, you'll build a network of customers who see the value your brand brings to their lives. These new connections will share their great experiences with your brand, which does some of the legwork for you. Use these testimonials and reviews as social proof, demonstrating to potential customers that you already have a loyal following.
3. Increase sales opportunities
Social selling offers a direct way to engage with potential leads and increase the number of sales opportunities for your brand. According to LinkedIn research, brands that use social selling are 51 percent more likely to reach their sales quotas than businesses that neglect social selling. Furthermore, 78 percent of social sellers make more sales than their competitors that don't prioritize social selling.
In e-commerce, customers are more likely to purchase something when there are fewer steps between "add to cart" and "checkout." Using social commerce as part of your social selling strategy makes it easy for viewers to purchase you products in one session. As a result, this shopping shortcut contributes to more sales.
4. Build relationships with potential customers
Communicating with potential customers on social media builds personal relationships with them — ones they'll remember when they're ready to purchase a product. When you engage on social platforms such as Facebook and Instagram, you create a community of users who feel comfortable with your brand. Leave a compliment, offer a helpful tip, or crack a joke in the comments.
What Are The Most Popular Social Media Platforms For Social Selling?
With nearly three billion users, Facebook is the most popular platform. This makes it an obvious avenue through which your brand can engage in social selling. To start, Facebook groups are a great avenue for connecting with users. Find relevant groups where users gather to discuss specific interests. A local club sports enthusiasts group is a great place to share your sportswear shop's latest blog post, for example.
There are several social selling tools that help you boost your engagement on Facebook. Social selling tools for this platform automate posting, too. Use these tools to review analytics for informing and executing your social selling plan. 
For example, Sprout Social is a solution that helps you draft and regularly publish content to Facebook users. This social selling platform gives you actionable steps to improve your strategy. Social listening tools for folding your audience's interests and needs into your social selling approach are also available.
With roughly two billion active users, the image- and (recently) video-driven platform Instagram is popular for e-commerce, organic engagement, and influencer content. Replying to individual comments is one of the best social selling techniques for Instagram.
For instance, someone might post a comment relevant to your products and services under one of your posts or within another user's comment section. This is a perfect time to reply with an engaging response and create a quality touchpoint with a potential customer. Comment on the poster's creativity, respond to their caption, or offer additional tips for the product featured in their post. Direct messaging on Instagram is another popular feature through which you share additional information about your brand.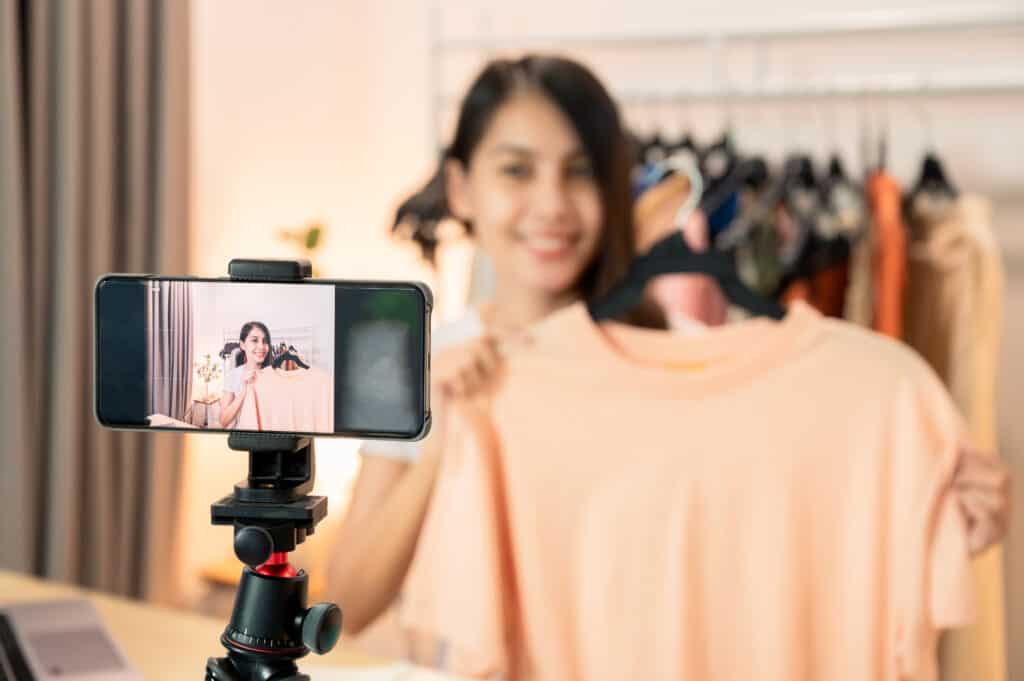 On Instagram, search for hashtags that connect you directly with posts and users related to your industry. This method identifies influencers and potential customers who are interested in these topics. Social listening tools show you the conversations these folks are having, too. Use these data to develop a strategy for your outreach, as this information pinpoints where potential customers "live" online. 
Additional social selling tools like Combin Growth and Inflact are useful for building relationships on Instagram. They both help you find your desired audience and the best accounts to interact with to bolster your social media presence.
Sixty percent of this social media platform's users are between the ages of 16 and 24. If your brand caters to a younger audience, social selling on this platform is ideal. Plus, as the fastest-growing platform, TikTok presents several avenues for connecting with buyers.
TikTok shows users video content based on their interests. This algorithm creates ample social selling opportunities for your business by delivering that content to an audience that's already interested in your industry. TikTok also offers a built-in social selling tool through its TikTok for Business accounts. This feature connects you with audiences around the globe through a suite of tools for managing ads, effects, hashtag challenges, and more. 
People often use Pinterest to get ideas for future purchases. Capitalize on this through Pinterest posts that appeal to your audience's aesthetic by showing your products in action or in environments that highlight their best uses, demonstrating practical ways to put your products to work.
According to Pinterest research, users on this social network spend twice as much money per month on shopping than other platforms' users. People don't often search for brands or specific products on Pinterest. Instead, they typically conduct general searches in an attempt to spark ideas.
However, 80 percent of weekly Pinterest users still say they've found new brands or products on Pinterest. This gives your brand plenty of opportunities to reach your potential customers through Pinterest social selling. Posting high-quality photos with aesthetically-pleasing graphics, colors, and fonts that suit your brand is visually appealing to Pinterest users, which is key for developing curating boards on the platform. There's also the addition of video, which reaches more people; according to Pinterest, videos there are watched to completion at twice the average of videos on other platforms.
YouTube is the world's second-most visited website, coming in just after Google (which owns YouTube). More than 40 percent of buyers say they've purchased products they learned about on YouTube. People use this social media platform to watch product reviews, learn how products work, and discover the best uses for them. This offers a golden opportunity to connect with potential buyers.
With one of the best analytics suites among social platforms, YouTube lets you see who's watching your content, where and when they're watching it, and the demographics about those customers. This gives you valuable information about your desired audience that's then used to tailor your content and your strategy. For example, if you find that a significant portion of your audience is 55+, produce more content geared toward older adults.
To engage in social selling on this platform, ask your viewers their opinions about what they want to see in future videos or ask them about their pain points for use as topics in future videos. Respond to comments on your videos to show that your brand is interested in interacting with viewers instead of just posting content. 
Though people typically use their LinkedIn profiles to build relationships in a professional context, this platform also benefits brands looking to connect with consumers. Search for mutual connections' LinkedIn profiles as well as people within a certain geographical area or within entire industries. This approach puts you right in front of consumers within your desired audience, opening the door to social selling.
To best tap into social selling on this platform, post engaging content that appeals to your ideal customers and join LinkedIn groups that host your potential customers. From there, make personalized requests to connect with potential customers and start conversations that reveal your products and solutions.
LinkedIn Sales Navigator is a great social selling tool that conducts even narrower searches than the social media platform's basic feature. The LinkedIn Sales Navigator tool also saves your sales leads through integrations like HubSpot.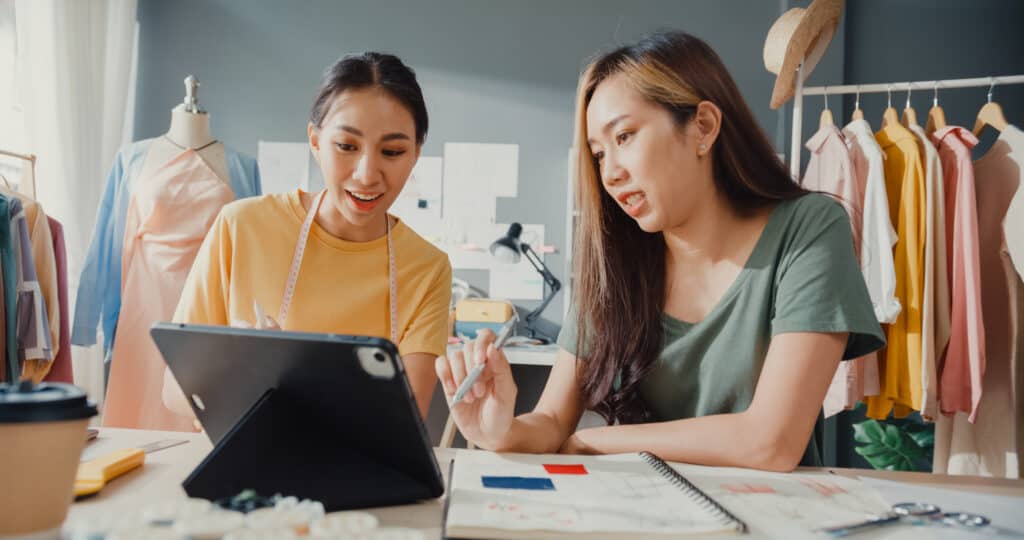 How To Start A Social Selling Strategy
As with any strategy for your business, you need to define exactly what you want to accomplish through social selling. Are you trying to increase your social media presence, generate more social sales, or increase customer loyalty? Though all of these goals lead to increased sales, clearly defining your goals creates a focused social selling plan.
Based on your goals, set metrics that tailor your social selling efforts and track your social selling performance. Since social selling goes beyond increasing your brand's follower count, you'll want to focus on metrics that look at engagement, conversion, and click-through rates. Social listening tools may include these analytics while detailing the exact conversations potential buyers are having on the internet.
To create the most effective social selling strategy, you need to know as much as possible about your potential customers. Some important information to consider is their age range, average income, general job industries, interests, and locations. This insight helps you choose the right social platforms, approaches, and tone of voice to use with your audience.
Understand your competitors
Knowing what other companies are up to gives you an idea of what to do and not to do with your social selling strategy. Conducting a competitive analysis informs a clear outline of your competitors' strong points. It also shows how your social selling strategy has the potential to surpass others' efforts and social media presence.
Find new social selling opportunities other companies haven't considered. You might find that your main competitor is only dominant on one social platform. As a result, you may choose to focus on another platform to reach the buyers they aren't engaging.
Most social media platforms offer accounts optimized for businesses. These accounts typically provide additional features such as marketing analytics that give you detailed information about your potential customers. Look out for these as you set up your social accounts.
Additionally, while your approach to social selling might be different for each platform, keep your name and branding consistent across all your pages. You want users to easily find your business.
Four Tips For A Successful Social Selling Strategy
1. Focus on just a handful of social media platforms
Larger businesses might have entire sales teams that manage an account for every social media platform. If you're running a small business, that might prove tougher. Focusing on one or just a couple of platforms ensures you stay on top of your social selling strategy and yield the best results.
Start with the social media platform that best suits your brand and reaches most of your target audience. For example, if your brand appeals to a younger demographic, you might choose TikTok or Instagram. If your products are created for business professionals, social selling through a LinkedIn profile might be your preferred choice.
2. Find spaces that include your target audience
Join platforms' built-in forums or relevant groups to get in direct contact with the people you want to reach. As you start contributing to these groups, you'll likely find that more people start viewing and engaging with your business's pages.
3. Keep your conversations centered around your brand
You should engage in conversations about your brand — answering questions and responding to concerns users might have is a great start. Social listening tools find these conversations if you're struggling to discover them on your own.
Several studies have shown that most customers read reviews from other customers before deciding to make an online purchase. This creates a social selling opportunity for your business. To generate some additional interest in your brand, post relevant content that showcases your current customers' satisfaction with your brand.
Just about every piece of content social media users see is tailored to their interests. The comments you leave and messages you send to users should similarly feature personalization elements.
You might decide to highlight an interest you and your prospect share. This also brings their attention to a post you both commented on or liked. This approach shows potential customers you're being intentional about engaging with them and that you aren't taking a one-size-fits-all approach to your social conversations.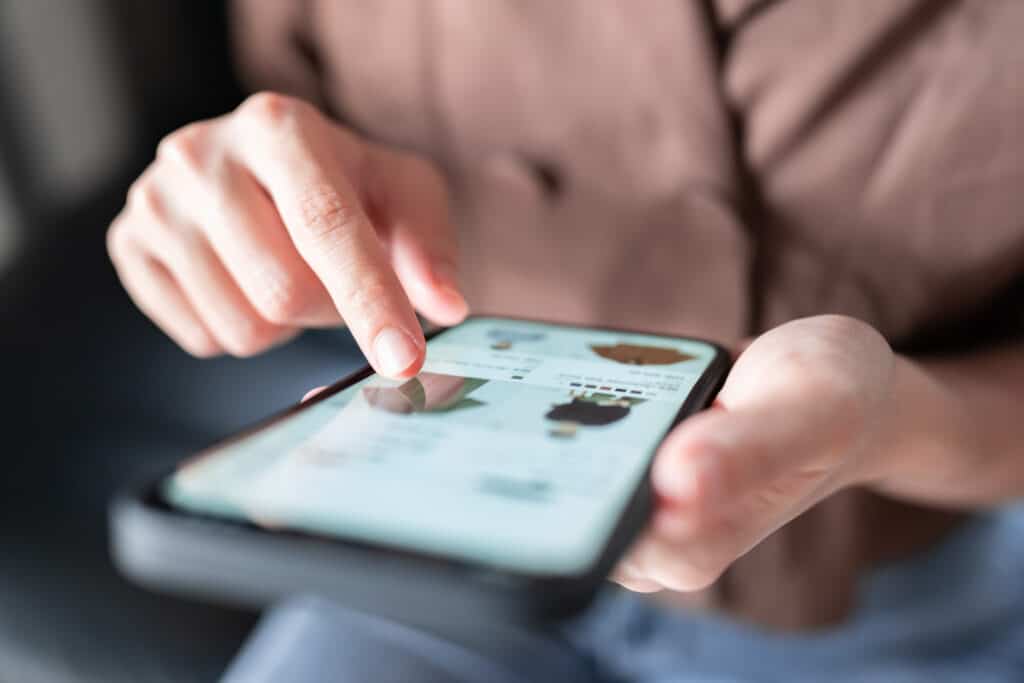 How Social Selling Benefits Social Commerce
Improved omnichannel marketing

. Omnichannel marketing refers to your presence across multiple touchpoints, but there are multiple touchpoints within social media platforms to consider as well. These include your brand's profiles, profiles of other visitors, and the social shop, all of which work together to carry customers to checkout.

Smoothes the customer journey

. The easier you make it for viewers to shop for your products, the more likely they are to buy. Effective social media marketing creates a direct pipeline to social commerce, making it easy for customers to complete their purchases.

Brand awareness increases purchases

. A growing number of social media users

utilize platforms to research brands

, effectively using them like search engines. Your presence on social can therefore direct curious folks into customers by leading them straight from your profile to shopping.

Simplifies data analysis

. Impressions, engagement, reach, and other metrics are baked into each platform. With these data, it's easier to make the connections between the content you're posting, the comments you're leaving, and the traffic heading to your social commerce listings. Use this information to see where your efforts are working and what could use improvement.
Getting Social With Sales
With billions of users on social platforms, your brand's social media channels are an important gateway to reach new audiences. A sales strategy on platforms like TikTok and Facebook maximizes reach and generates leads. By sharing relevant content and creating on-target social selling messaging, you build a following and make a statement that resonates with paying customers. It's a winning formula for sales success that pays off in spades.