There's nothing like the freedom and flexibility that comes with buying whatever you want, whenever you want. No wonder online shopping has become a part of consumers' everyday lives. An optimized e-commerce system puts your business in front of a larger audience of consumers and gives you a leg up on the competition. 
That said, tons of e-commerce systems are out there, so you might find it overwhelming to determine the best platform for your small business. With this ultimate guide to choosing works for your business, navigate your options, reach your business goals, and find e-commerce success.
What Is An E-Commerce Platform?
An e-commerce platform is a software solution through which you sell your products online to consumers. Its features and capabilities include — but certainly aren't limited to — marketing, payment processing, and order fulfillment. It's essentially your virtual storefront that allows you to manage the entire e-commerce business from a single platform.
What Are The Main Components Of An E-Commerce System?
Web hosting is the foundation of any e-commerce system — it keeps your site accessible around the clock for customers across the globe. Web hosting designed for small business retail e-commerce platforms prioritizes quick loading times, secure payment processing, high uptime rates, and regular data backups.
The front end of your e-commerce platform is the user-facing side of your online store. It's the design, layout, and user interface with which customers interact. A well-designed front end is visually appealing and easy for customers to navigate — and why they keep coming back.
Your site's back end is the behind-the-scenes component that powers your e-commerce solution. It includes the server infrastructure, databases, and software that powers your website. A good back end seamlessly integrates payment gateways, manages customer accounts, and generates detailed business analytics, making it easy for you to sell online. It's also essential for integrating with third-party apps, like Thrive.
Who Needs An E-Commerce Solution?
The right e-commerce solution is the lifeblood of any business that sells products and services on the internet. While lots of online retailers just rely on marketplaces, like etsy, or phone-in orders, having a dedicated e-commerce gives you more opportunity to scale and optimize your business.
In today's market, shoppers expect storefronts to have an online store. It serves many other benefits beyond online sales, such as letting shoppers discover the exact products they are looking for before coming in-store.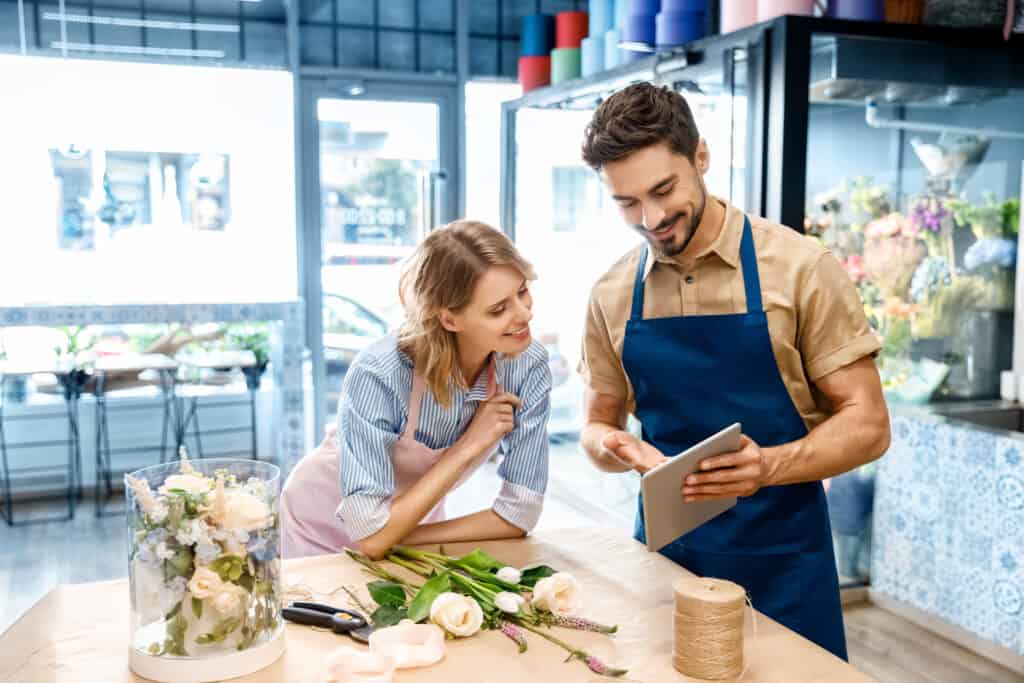 Additionally, in-store kiosks are more commonplace in storefronts than ever before. Whether you sell craft supplies, furniture, or cell phone accessories, a well-designed e-commerce solution tracks and manages those sales alongside transactions at the cashier and sales made online.
E-commerce solutions simplify fulfilling large or recurring orders, with features that track stock, ensure you have the right quantities on hand, and that you reorder accurately and on-time. It also serves as a catalog for your wholesale buyers who can maximize their relationship with better access to your entire product line.

Sell directly to your customers with ease. Whether you sell essential oils to consumers or garden supplies to a distributor, e-commerce solutions streamline sales between touchpoints and track every dollar. 
Why Do Small Businesses Benefit From An E-Commerce Solution?
Reaching larger audiences.

With an e-commerce platform, your small business expands its customer base far beyond any geographical limits. This greater audience opens up a vast market of potential customers, greatly boosting sales opportunities. 
Keeping operational costs low.

Setting up an e-commerce website requires a relatively low initial investment, not to mention relatively few ongoing fees and expenses. This gives you more wiggle room to allocate your budget to other key aspects of e-commerce growth, such as marketing and product development.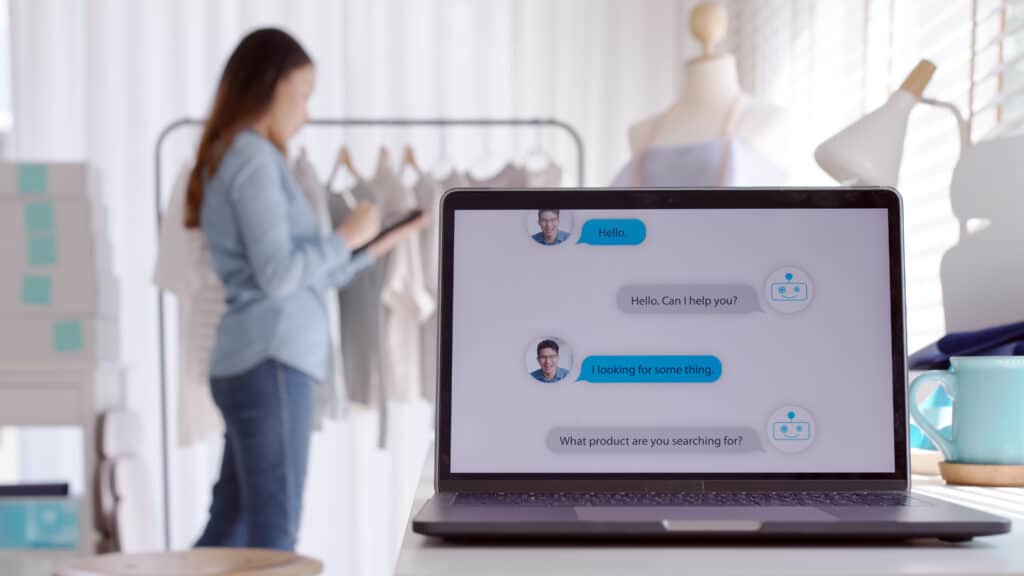 Building customer relationships.

With e-commerce software for small businesses, you can personalize your customers' shopping experiences. This level of customization is key to building strong, loyal relationships with your customers, leading to repeat purchases and word-of-mouth referrals.
Getting detailed insights.

E-commerce platforms turn up invaluable data and analytics you might struggle to get elsewhere. These insights highlight your customers' preferences and your sales trends. Leveraging this data to make the best possible decisions is a reliable way to draw shoppers to your e-commerce business.
Scaling without limits.

In a traditional brick and mortar store, expanding usually involves

adding another location

. This requires additional physical space, planning, and staff — in other words, considerable costs. With e-commerce platforms, you can sell products 24/7 and add more products to your catalog without needing a larger storefront or the cash required to run such an expansive operation.
Stronger marketing campaigns.

Your online marketing efforts will have more success if your audience is able to complete the entire buying process at their fingertips. For instance, if you have a social media ad that highlights your new spring line, you'll have a higher conversion rate if shoppers can click through directly to your product page versus hoping they come visit your storefront.
Automate with online ordering

. Gone are the days of taking orders over the phone or by email. E-commerce solutions come with powerful automation tools that handle time-consuming tasks like manually placing each customer order. That results in more accurate reporting, improved customer satisfaction, and more time to work on growing your business. 
12 Factors You Need To Consider For Your E-Commerce Platform
Between your web hosting service and e-commerce software for your business, the technology will cost between $50 and $350 per month. Where exactly your platform's price tag falls depends on a bunch of moving parts. These include your product catalog's size, how many customization options you pay for in your subscription, and your overall sales.
Some e-commerce platforms charge a percentage of each sale as transaction fees, while others have flat-rate fees. Many e-commerce platforms, in fact, charge both — for example, 2.9 percent plus $0.30 per transaction.
There are three primary hosting options for most small businesses' e-commerce operations.
Cloud-based hosting:

Cloud-based hosting is the most flexible and scalable option for e-commerce. A network of virtual servers hosts your website, ensuring minimal downtime since your site doesn't rely on a single hardware server. This hosting option might be ideal if your website's traffic varies or your online presence is growing rapidly. Really, though, it's the best option for any online business, as cloud-based hosting generally has the best record for uptime, load times, and other factors that impact the customer experience.
Shared hosting:

With shared hosting, multiple websites share the same server resources. This is a more budget-friendly option that works if each site sharing the server gets equal and moderate traffic. If any site on the server receives a spike in traffic, slow loading times could result for everyone.
VPS hosting:

VPS hosting is a balance between shared and dedicated hosting (allocating an entire server to one website). In VPS hosting, your website gets assigned a set portion of a server's resources. It's suitable if your business requires greater control over your hosting environment but doesn't need the entire server capacity.



Your domain name is the unique web address that users type into their browsers to access your online store. Ideally, your domain name aligns with your business name so it's easy for customers to recall. 
As you think of a good domain name, consider:
Is it easy to pronounce?

Is it too wordy?

Do any words in your domain sound too similar to other words? For example, words like "pear" and "pair," "bear" and "bare," or "rough" and "ruff" may cause confusion, as customers use the wrong word or mishear the website name.
You'll need to ensure your e-commerce platform is equipped with robust security measures to protect your business and customers' information. Investing in a reliable SSL certificate encrypts the sensitive data transmitted between your e-commerce platform and your shoppers' browsers. 
You should also ensure that your e-commerce platform is PCI-compliant. This means, among other standards, that your platform must encrypt customer financial data, maintain firewalls and antivirus software, and assign customers unique user IDs.
A user-friendly interface is essential for giving your customers a seamless shopping experience. Organized product categories, concise menus, and search functionality will all help customers easily navigate your catalog.
Another usability point to consider is your checkout process. You might allow your customers to check out as guests instead of requiring them to fill out a registration form. This minimizes barriers or distractions that can keep customers from completing the checkout process.
While evaluating usability, don't forget to take creating and maintaining your site into account. The best e-commerce systems make it simple to install, set up, customize, and make changes to your site. 
You can differentiate your brand and stand out from other online businesses with the right customization options. Modifying your website's layout, color scheme, and typography enhances your customers' experience on your site. Your e-commerce system should also allow you to easily add and modify product attributes, descriptions, and images.
8. Integration with your preferred apps
Whether you rely on accounting software, customer relationship management (CRM) databases, or marketing automation tools, integrate them with your e-commerce system. This saves you invaluable time and resources since all your processes will be in sync and streamlined. Your e-commerce platform should offer a wide range of integrations or support an open API (Application Programming Interface) that allows for easy connections. 
Try Inventory Management For Free
Thrive integrates with Shopify, BigCommerce, Square Online, and WooCommerce to power up your inventory management capabilities with tools your e-commerce platform is missing.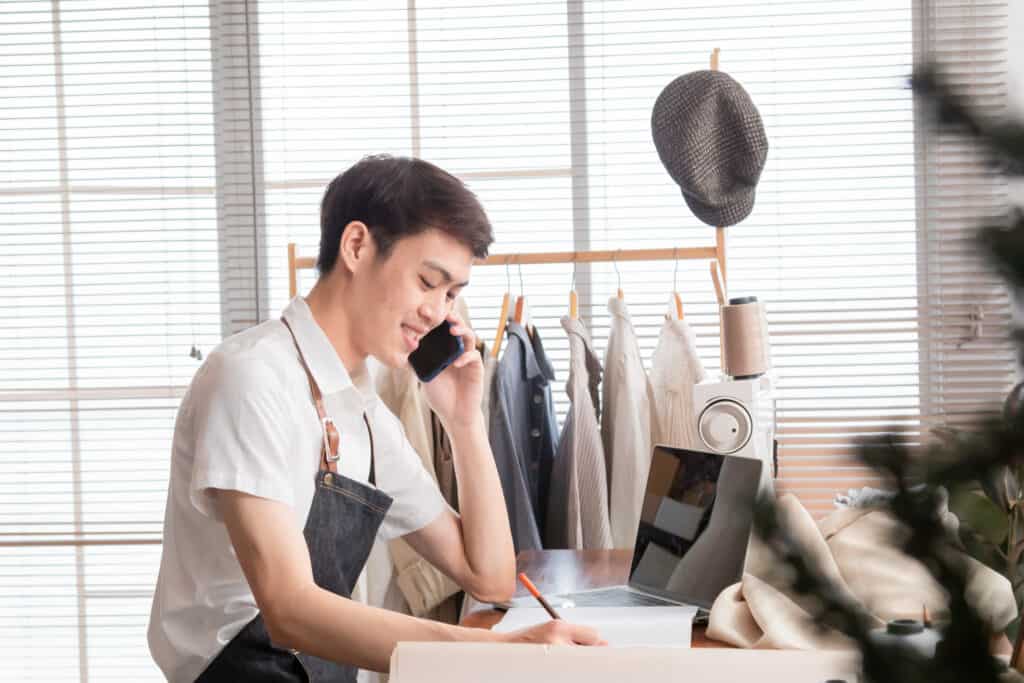 When technical glitches or other challenges arise with your e-commerce platform, a team dedicated to helping you mitigate them makes all the difference. Your e-commerce platform should come with around-the-clock customer support, ideally at no additional cost. You should also be able to get help through several channels such as live chat, email, and phone.
Search engine optimization brings visibility to your e-commerce website by increasing traffic from search engines to your website. An e-commerce platform that includes SEO features helps you determine which keywords to include in your product descriptions and other website content. This way, you find and use the phrases that buyers are searching for the products they need.
In turn, you ensure your website copy includes the keywords it needs for your pages to rank higher on search engine result pages (SERPs). These tools are in addition to free tools like Google Analytics or Yoast, which integrate with any type of website and provide great information about who's visiting your e-commerce store.
Your e-commerce website's design and layout should automatically adjust to fit different screen sizes and resolutions. This responsive design also ranks your website higher on SERPs. An e-commerce platform optimized for mobile devices ensures your customers can shop with your business wherever they are. Considering that three-quarters of online shoppers primarily use their smartphones, proper mobile optimization may even be considered a must for your e-commerce platform.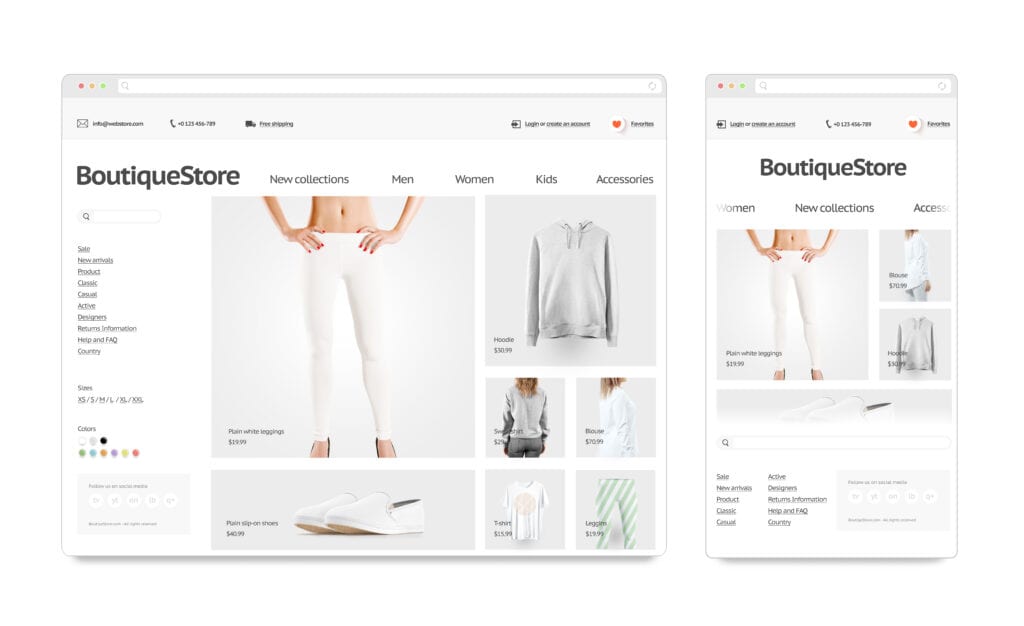 A website that comes loaded with free themes and templates makes setting up your site quick and easy. These templates don't require you to have technical knowledge in web design to make them user-friendly and pleasant to scroll through. Look for e-commerce platforms with themes tailored to specific industries — clothes, electronics, handmade crafts. This way, you'll certainly find a pre-built theme that suits your business. 
These themes often come with built-in functionalities specific to e-commerce platforms, such as product galleries, shopping carts, and payment gateway integration. In just a few clicks, you'll have a professional online store up and running.
5 Services That Expand The Capabilities Of Your E-Commerce System
A POS system is your foundation for managing sales and customer transactions across your storefront locations. When integrated with your e-commerce system, your POS is great for tracking sales trends, managing multi-channels orders, and updating your customers on product availability everywhere they buy.
Ready to expand your business to in-store? Cross reference this blog with our guide on choosing a POS system to get the most out of your tech setup. 
The best e-commerce platform makes inventory management simple and hassle-free. An inventory management tool tracks and manages what's in stock in real-time, ensuring that you never run out of your most popular items. With the right inventory management system integrated into your e-commerce platform, you can automate inventory updates, set reorder points, and auto-generate purchase orders. 
Try Inventory Management Free For 30-Days
Add product bundles, stock forecast reporting, bill of materials, and inventory valuation to your toolbox with Thrive.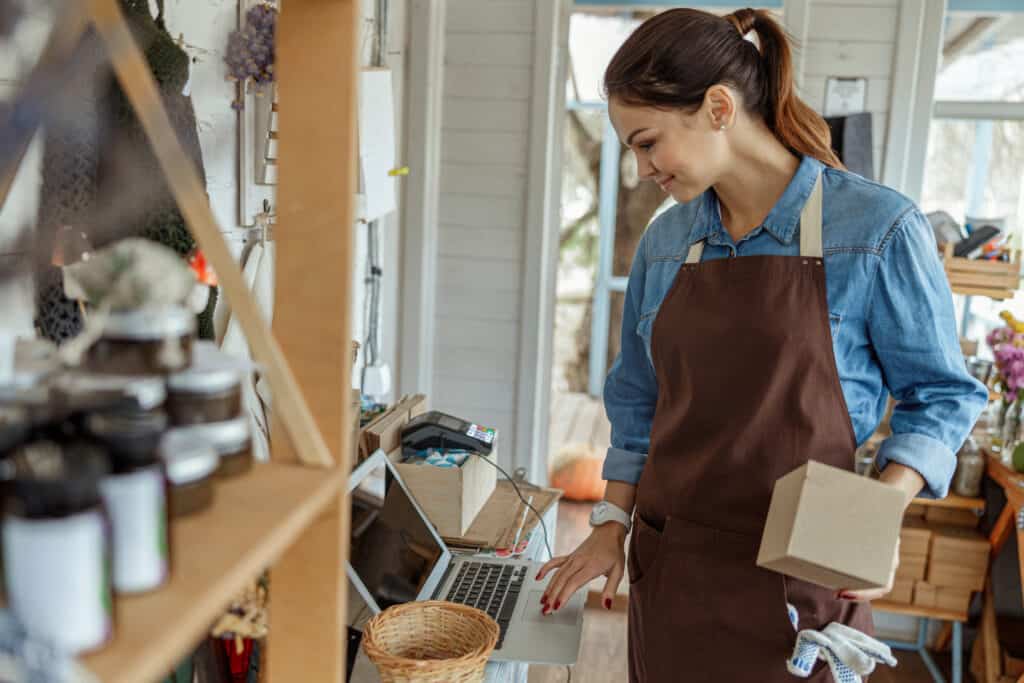 An integrated shipping system streamlines the entire process, from printing shipping labels to managing tracking information. Look for an e-commerce system that offers integration with popular shipping carriers, like
Shippo
and
ShipBob
. This way, you can easily compare rates, print shipping labels, and provide tracking information to your customers. 
Integrating marketing tools with your e-commerce system enables you to run email campaigns, create promotional offers, send exclusive discounts to loyal shoppers through multiple channels, and more. You can also use these tools to analyze the data you gather and track your marketing efforts' effectiveness. The best e-commerce platforms integrate with the most popular marketing tools, such as
Mailchimp
for email marketing. 
An e-commerce system that integrates with accounting software, like
Quickbooks
, streamlines financial tasks such as bookkeeping, invoicing, and preparing your taxes. This integration ensures your financial data is accurate and updated.
An e-commerce system that integrates customer data provides better support for your customers. A built-in CRM system keeps track of your customers' data, which you can then leverage to identify shopping trends, personalize marketing campaigns, and improve the shopping experience.
How To Choose An E-Commerce Platform
One of the first steps to choosing an e-commerce platform for your business is evaluating your preferences and your business's needs. From there, you can evaluate your budget and choose an e-commerce system that aligns with your requirements and financial capabilities. The best e-commerce platform for your business will check these boxes while including all the key features explained above. Take your target customers into account and consider the features they'll find important as well.
You might also want to seek out reviews and feedback from other businesses that have used the e-commerce systems you're considering. Their experiences can help you make a more informed decision.
Our Recommended E-Commerce Platforms
Shopify features an extensive back end that houses endless features and reports that offer insights into your online store's performance. You can easily locate your top-performing product pages, review order quantities, and monitor your website visitors. The platform has a POS system designed for multi-channel businesses, simplifying how you track where sales are coming from. The platform also hosts its e-commerce sites on a cloud-based network, eliminating the risks of server crashes and costly downtime.
Starting at price: $39/mo
Starting credit card rates: 2.9% + 0.30¢
Free trial: 3 days
BigCommerce is an e-commerce platform known for its SEO tools and capabilities. This e-commerce platform also comes with an SSL certificate no matter your monthly plan. It is a platform designed with features for scaling your business online, especially in the apparel, health, beauty, food & beverage, and manufacturing industries.
Starting at price: $39/mo
Starting credit card rates: No transaction feeds to use leading payment gateways
Free trial: 15 days
Customization is central to Square Online. You can use this platform to list an unlimited number of products and add variations such as sizes and colors. If you have multiple sales channels, Square offers a POS system tailored to managing those touchpoints. Square keeps food & beverage, retail, beauty, and service based business top of mind with features such as appointments and online ordering.
Starting at price: $0/mo
Starting credit card rates: 2.9% + 0.30¢
Free trial: Signing up for Square is free
WooCommerce offers an intuitive user interface and a WordPress website builder. This way, you get an all-in-one package of both an e-commerce platform and a well-constructed website. This platform also offers a wide range of themes, and you can customize virtually any aspect of your e-commerce website.
Starting at price: $39/mo
Starting credit card rates: Try WooPayments for free with no setup costs of monthly fees, or integration with additional payment methods.
Free trial: 14 days
Getting The Most Out Of Your Online Sales
E-commerce platforms open your business to the whole world. The right platform streamlines online stores, fostering customer loyalty and driving sales without complicating your day-to-day operations. With the right tools, launching and optimizing your online storefront is easier than ever.
Building your online store is only the beginning when e-commerce platforms are involved. If anything, implementing and optimizing your chosen e-commerce system is an ongoing process. Stay informed on the latest trends, and continuously test and improve your online site. This way, your business remains competitive and continues to grow.