As a small business owner, your POS system makes your store go round. It's the tool that turns sales into profit. You want to provide your shoppers with the best possible experience, but you also need to keep up with inventory, manage employees, and handle finances. The right point-of-sale (POS) system helps you do all the above and more. Below, you'll learn how to choose the best POS system for your small business.
A POS system is a combination of hardware and software you'll use to complete sales transactions, manage customer data, and generate detailed reports. With the right POS system, you don't need to manually calculate sales totals and guess which products are most popular. Instead, you'll automate these processes and collect concrete data, saving you time and reducing the risk of human error while providing growth-fueling insights.
What Are The Three Types Of POS Devices?
Hardware POS systems refer to what's used at checkout. These are the physical devices and equipment that facilitate sales transactions. These devices typically include a cash register or terminal, barcode scanners, and receipt printers. Payment processing devices such as card readers are also examples of POS hardware.
POS software is the backbone that powers the entire system. It allows insight into your whole catalog, offers a clean dashboard and user interface, and includes sales tracking tools and reporting modules. 
Integrated POS systems are all-in-one solutions. They seamlessly integrate with all your sales channels, including multiple locations, retail store and e-commerce operations, customer relationship management (CRM) tools, and accounting software. Other parts of your business that integrated POS systems connect with include payment processors, e-commerce platforms, and inventory management systems.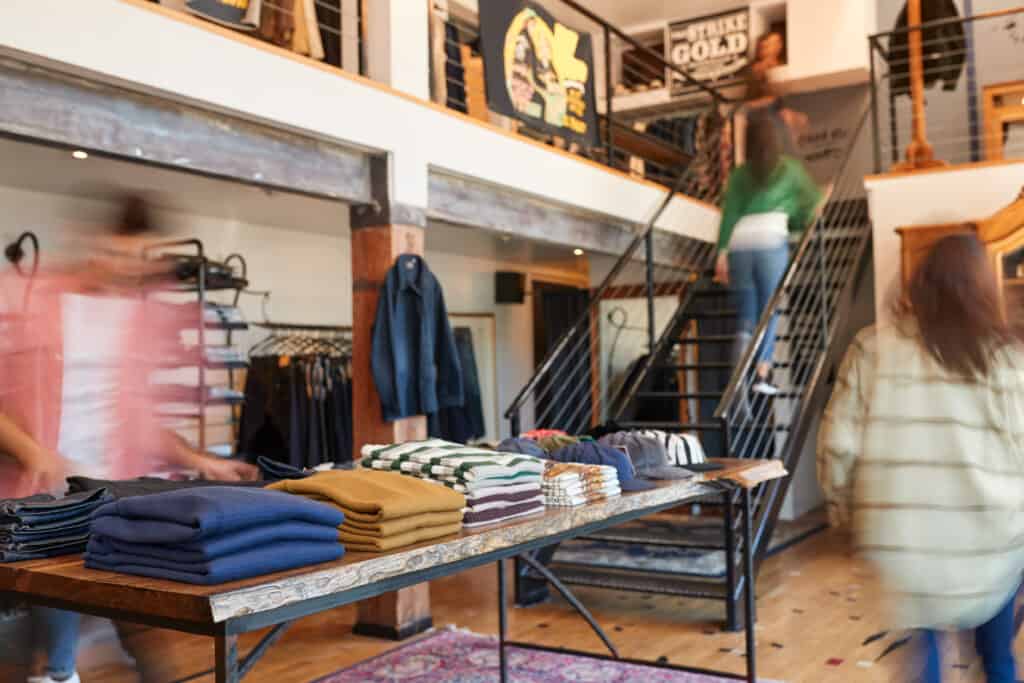 What Kind Of Businesses Need A POS System?
Storefront retail

: Streamline sales, inventory, payment methods, marketing, and more from one dashboard. The right POS system also offers kiosks you can set up in your shop, so customers can take advantage of a self-serve option.

Restaurants

: From running checks tableside to sending orders to the kitchen, POS systems manage food and beverage services with ease. 

Personal services

: Tools like appointment setters make POS systems an indispensable tool for nail salons, therapists, personal trainers, and many more personal services where you're wearing many hats at once. The right POS system automates everyday tasks, tracks invoices, and accept payments from a single platform.

Pop-ups

: If you sell your products at street fairs and festivals, a POS system ensures you keep items and sales on track. You can access sales reports by event, too, so you can see

which events generated the most sales

and which items were most popular at a certain event.
Why A POS System For Small Businesses?
Centralize your operations.

With integrated POS systems, you centralize all aspects of your business. Through POS hardware and software working in tandem with your other systems, you'll seamlessly manage inventory, track sales, and monitor customer data.

Boost your efficiency.

A POS provider makes your business's most advanced operations feel effortless. For example, if your store often has long checkout lines, portable tablets or handheld devices with integrated card readers can accelerate orders.

Increase accuracy.

Simplify bookkeeping for product orders, customer returns, and taxes with a digital paper trail. Stay organized and ensure you're not leaving money on the table.

Upgrade your omnichannel experience.

Whether a customer is shopping in-store or online, a POS system provides a unified view of their preferences, purchase history, and any ongoing promotions. This allows for personalized recommendations and targeted marketing efforts, creating a more tailored and engaging experience for customers.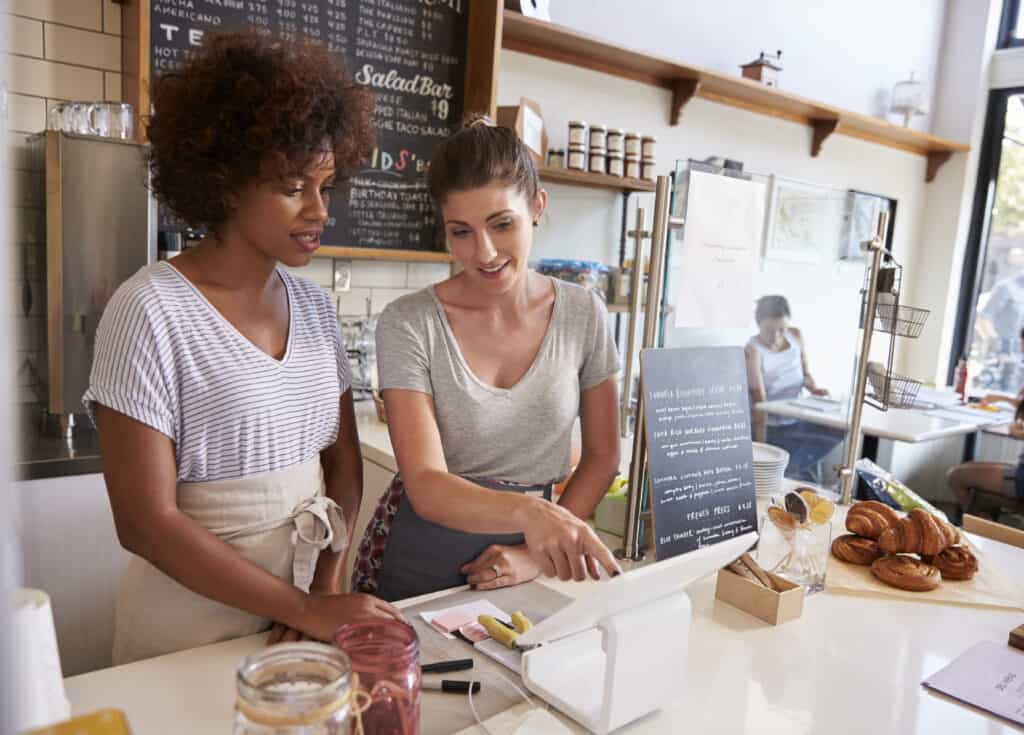 How To Choose A POS System: 12 Factors To Consider
The cost associated with POS providers
depends on the features you need. That said, in general, you can expect a POS solution to cost anywhere between $1,200 and $6,500 during your first year of use. In future years, your POS system costs will likely fall to between $600 and $1,200 per year. Upfront costs include the initial purchase or lease price of POS hardware. Ongoing costs include your monthly subscription.
Assessing the necessary hardware components for your business is crucial in ensuring that your POS system operates seamlessly. Hardware for a POS system can cost as much as $2,000.
If you're opting for a full setup, you'll pay more — for example, a terminal can cost anywhere between $200 and $6,500. A barcode scanner costs between $200 and $350, and a cash drawer costs about $150. You'll also need receipt printers ($300–$400), card readers ($50), and, for certain businesses, kitchen display systems or customer-facing displays.
The payment processing features in a POS system enable you to accept payments via credit cards, debit cards, mobile payments, and cash. When evaluating a POS provider's payment processing fees and rates, consider the provider's transaction fees, monthly fees, processing time, and compatibility with other payment providers.
On average, credit card processing fees range between 1.5 percent and 3.5 percent per transaction. Lower transaction fees may come with a higher monthly fee like a subscription cost, and lower monthly prices may disguise high transaction fees.
4. Integrations with your preferred apps
Integration capabilities are your POS system's ability to connect and communicate with your other business software applications or platforms. This includes but isn't limited to your accounting software, inventory management system, customer relationship management (CRM) software, and e-commerce platform.
Robust integrations sync data across various systems in real-time. For example, when a customer makes a sale through your POS system, the system automatically updates your inventory levels in your inventory management software. From there, your POS system triggers a customer update in your CRM tool and reflects the sale in your accounting software.
Add Inventory Management To Your POS
Thrive's inventory management app integrates with Square, Clover, and Shopify point-of-sale systems.
Prompt, reliable customer support makes a significant difference in your operations and your customers' satisfaction. Suppose your POS system encounters a technical glitch or you need assistance in setting up new features. Access to a knowledgeable, responsive support team saves you time, effort, and potential revenue loss.
When evaluating the support that a POS system provider offers, consider the breadth of channels available, such as phone, email, or live chat. You should also consider the vendor's typical response times and the support staff's expertise and knowledge level.
6. Compatibility with your industry
Take a closer look at which industries a POS services before making your selection. Some are best suited for service industries, offering features like appointment scheduling that are best for salons and massage therapists. Others are better suited for restaurants, with features like kitchen displays that migrate food orders from pen and paper into the same comprehensive system. Look up features specific to your industry to make the best choice for your business.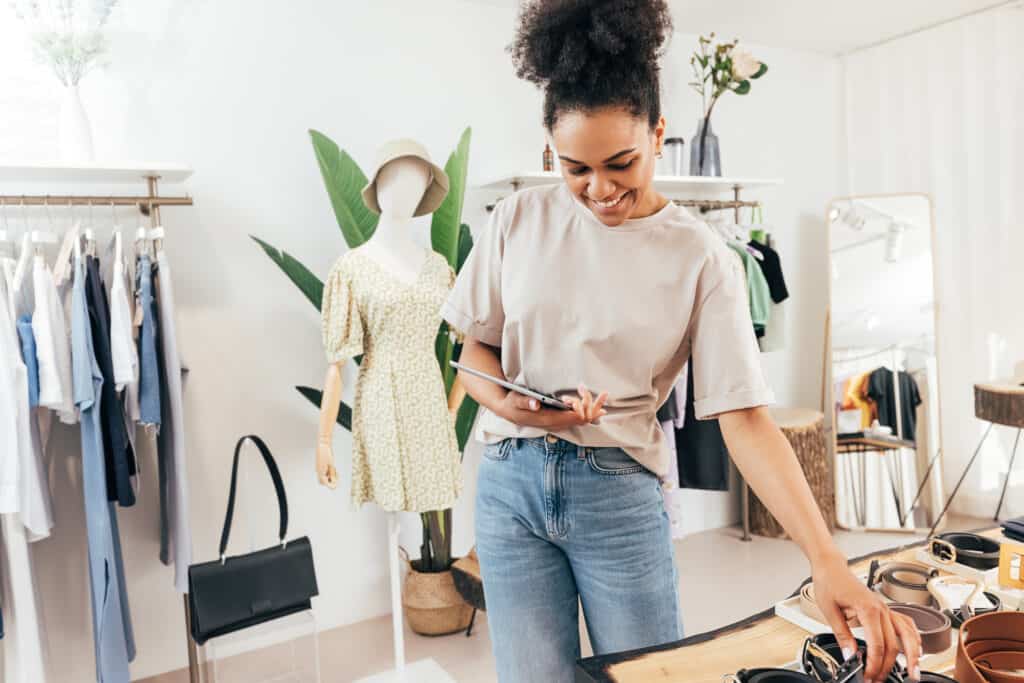 A mobile POS solution frees you from the confines of a traditional checkout counter. Whether you run a brick-and-mortar store, a pop-up shop, or a restaurant, a mobile POS system lets you serve your customers wherever they are. Imagine, for example, the convenience of completing transactions right on the sales floor, well before a customer reaches your cash register. This level of mobility increases customer satisfaction, boosts sales, and streamlines operations. Portability is becoming more commonplace for restaurant POS systems, where a customer's check is processed right at the table.
When customers make payments with your business, they trust you with sensitive information. With data encryption, any data transmitted within your POS system — between the terminal and the server — is secure. This built in payment processing structure makes it virtually impossible for anyone to intercept and access the information. The best POS systems for small businesses offer encryption and comply with PCI (Payment Card Industry) rules to ensure the safe handling of credit card data.
A POS system should come with a user-friendly interface through which your employees can quickly enter product information, apply discounts, and process payments. A clutter-free layout and intuitive navigation simplify the process, improve your staff's performance, and reduce wait times for your customers.
This important point-of-sale system feature involves more than changing your system's display theme color to match your brand. It involves creating and modifying product categories, pricing structures, and discounts whenever you want. The best small business POS systems support multiple customizable payment methods — credit cards, mobile payments, even cryptocurrencies. This way, you always have the resources to cater to your customers' evolving preferences.
A powerful POS system streamlines employee scheduling, time tracking, and performance monitoring. Built-in timekeeping functionality, sales commission tracking, and real-time performance analytics are among the advanced features available. With integrated staff management, you can ensure optimal staffing levels, identify top-performing employees, and address any training or skill-based gaps.
A powerful POS system stores and organizes customer data. By capturing and analyzing information such as purchase history and preferences, you gain valuable insights into your customers' behaviors. Leveraging this data is a great way to personalize your customers' experience with your business. For example, you can track how often a customer makes a purchase through your small business POS system. If a regular customer hasn't stopped by your store for a month, you can issue them a 20% off coupon through your customer loyalty program, good toward their next purchase.
4 Integrations That Expand The Capabilities Of Your POS System
With seamless integration with your online store, you sync your product catalog, inventory levels, and customer data in real time. This ensures that your online and offline sales channels are always up-to-date, all orders and shipments are tracked, and customers access accurate product availability.
One of the most valuable ways to utilize a modern POS system is real-time inventory tracking. This advanced inventory management system tracks important metrics, like stock levels, that help you run your business efficiently. Look for software that makes it easy to generate reports detailing your best-selling products, your slowest-moving items, and trends in customer demand. With this data, you can make informed decisions about purchasing and optimizing your inventory for maximum profitability.
Take Control Of Your Inventory
Thrive is your central hub for inventory management and reporting, reducing the painful manual process so you're free to grow and manage your business.
Many modern point-of-sale systems for small businesses work with leading marketing tools to boost your business's visibility and customer engagement. Customer loyalty programs, text message marketing tools, and email marketing tools are among the available integrations. You can create targeted and personalized campaigns based on data from your sales transactions and customer profiles. This makes it easy to segment your customer base and tailor your marketing messages accordingly.
If you own a skincare company, for example, your point of sale system tracks how frequently a customer purchases your hydrating face mask. Leverage this information to upsell this customer on related items. A discount on a jade roller may encourage this customer to add more than just their regular purchase to their cart. Think of ways to send discounts and special offers to certain customer groups, and watch your conversions and repeat purchases grow.
By integrating your business's POS system with your accounting software, you effortlessly sync your sales data, inventory information, and financial records. This integration eliminates the need for manual data entry. It also automates crucial accounting tasks such as generating invoices and tracking expenses. Plus, it ensures accuracy and efficiency while freeing up your time to focus on other aspects of your business.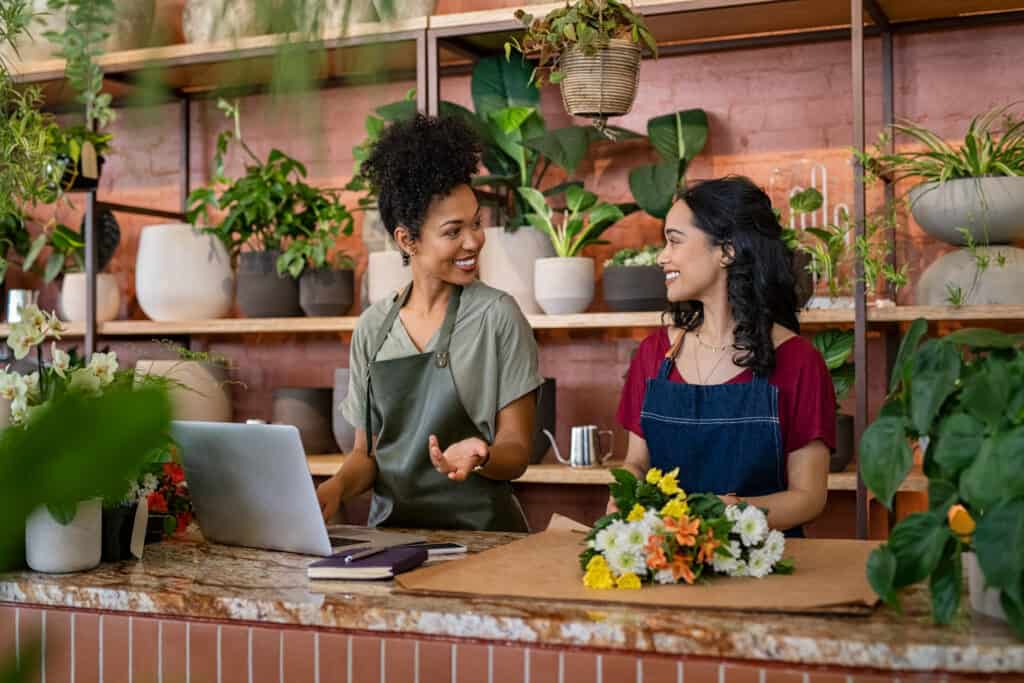 Our Recommended Small Business POS Systems
The highly versatile Clover POS system gives you a range of hardware options to choose from. It seamlessly integrates with over 300 software platforms and comes with tools for online ordering, contactless payments, staff management, and invoicing. You can choose from a range of hardware, so you can customize the equipment that works best for your business.
Shopify POS uses a fully synced setup to facilitate quick payments, returns, and exchanges. The platform excels at maintaining and connecting data such as customer order histories and personal preferences across all your business channels. Plus, you can process several popular payment methods and accept contactless payments using just an iPhone, so you don't need additional hardware.
Square facilitates both online and in-store sales and offers flexible plans, sales tracking, and staff management features. You also get insights into your customer base through integrated profiles if you sign up for the monthly Appointments plan. Through this plan, you can record customer interactions, send personal messages, and monitor purchasing patterns. This POS system also complies with PCI standards and features a user-friendly item search function.
A great POS system is more than hardware at a checkout counter. It manages inventory, provides valuable insights into customer behavior, and optimizes your marketing efforts. 
Finding the best POS system for your small business ultimately depends on your needs and goals. That's why requesting demos or free trials, or reaching out to customer support for further guidance, is a great first step. Carefully evaluate all the above factors as you compare and contrast platforms to choose a POS system that truly sets you up for success.