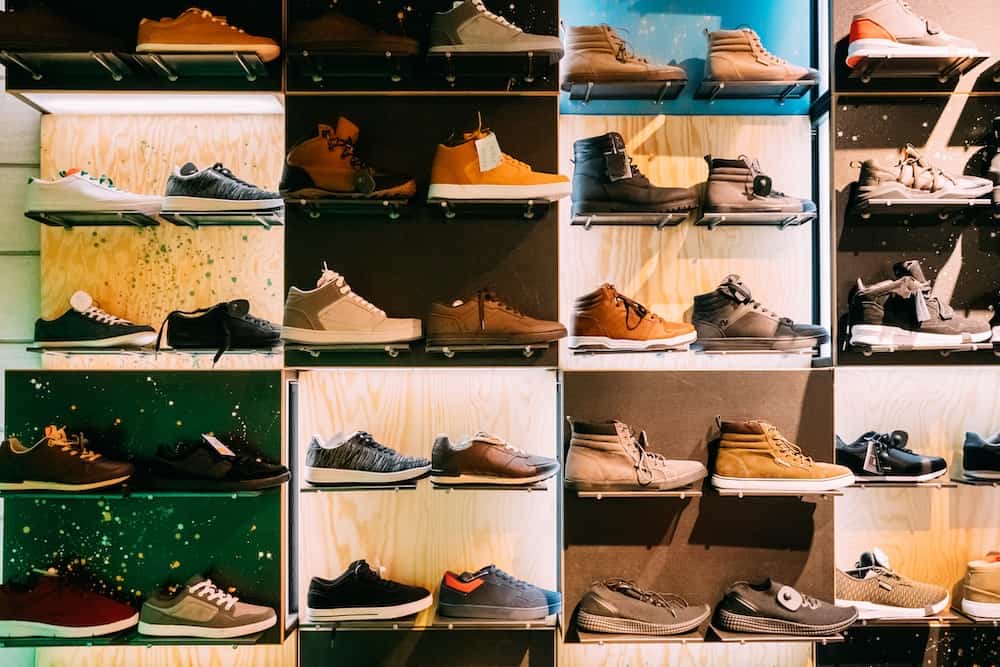 The Complete Guide to Retail Merchandising
Merchandising is more than just making sales in-store – it's the way you display products to entice shoppers, highlight bestsellers, and win more customers.


While it may sound like it takes specialized skill, retail merchandising can be quite straightforward. At its core, it involves figuring out what your customers are most likely to buy and arranging your in-store displays to encourage those purchases. And with the below retail merchandising tips and best practices, you'll see just how easy – and powerful – merchandising can be.
What is Retail Merchandising?
Retail merchandising refers to the process of creating displays of products that can be purchased. The goal of retail merchandising is to draw shoppers in and generate more sales. 
Retail merchandising involves how your store looks and feels, ranging from how visitors navigate the aisles to the items you put on the product displays. Whether displaying best selling products or sale items, retail merchandising's end goal is the same: Get more sales.
Often, retail merchandising is viewed as a practice most relevant to clothing stores. However, its importance in all retail settings can't be understated. Grocery stores, gift shops, bookstores, record stores, and more all fare better when they develop and execute a retail merchandising plan.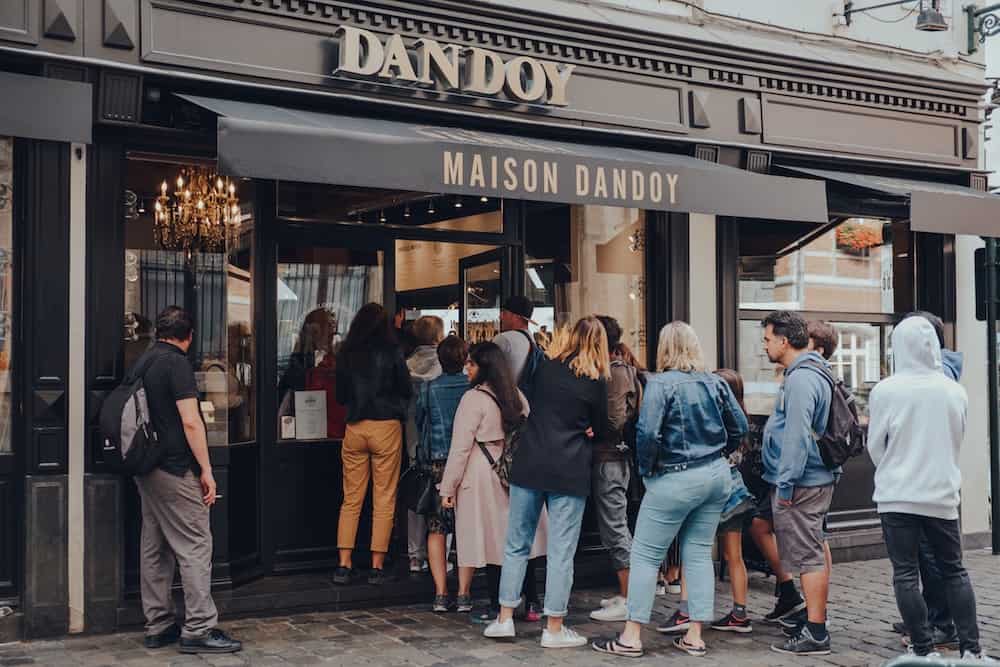 What are the Benefits of a Retail Merchandising Strategy?
Merchandising techniques in retail have numerous advantages. Some of these benefits are more visual and perhaps superficial. Others are directly related to your bottom line in both the short term and the long run. No matter your reason for developing a retail merchandising plan, having a strategy ensures that you take the right steps to develop the best strategy for your business. 
1. An Appealing Storefront Attracts More Customers
Think about the last time you went window shopping, whether at a brick-and-mortar store in the mall or exploring a downtown stretch of a new city. Which retailers did you go into? Which ones stood out the most? 
Chances are, the shops with all kinds of interesting goods displayed in their windows grabbed your attention. Maybe your gift shop incorporates beach chair and umbrella props in the window around the Fourth of July, for example. Even better yet, maybe you create an entire scene around a one-of-a-kind handbag that few boutiques carry.
And once inside, more interesting items lined the shelves and display tables. Your customers will feel the same way and will be similarly engaged when they come across your retail store.
2. The Right Merchandising Increases Sales
Part of merchandising for retail is arranging products attractively and clearly marking their prices and discounts. For starters, well-arranged products improve the customer experience – after all, great-looking products are way more likely to be sold.
Merchandising is also a great way to implement clever psychological pricing strategies. For example, you could list an expensive item next to a less expensive one to drive sales to the cheaper item. Greater profits could result.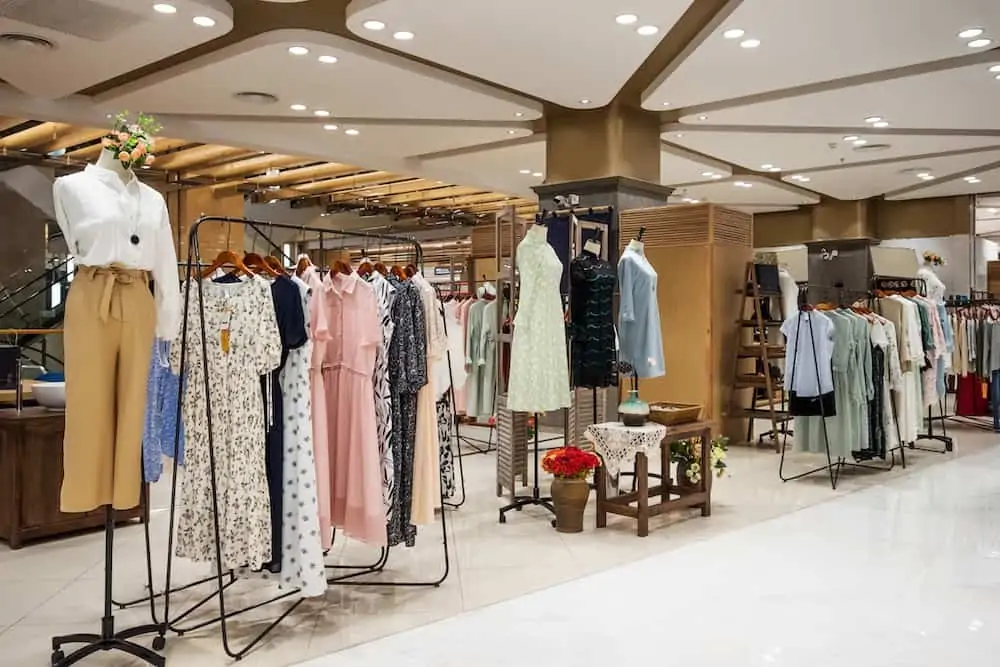 3. Retail Merchandising is an Easy, Affordable Way to Promote a Product
Marketing is an inevitable business cost, but adding retail merchandising into your strategy can be an effective way to utilize what you're already doing – stocking the shelves – to market to customers. You won't pay extra to arrange your products in certain ways, and creative displays can be put together on a budget. Plus, the staff you're already paying can handle these tasks, meaning you don't have to hire third-party services. 
4. It Helps Shape Point-of-Sale Promotions
A well-arranged in store display can draw in customers who weren't initially looking for your retail store. It can also bring customers back as they make a final buying decision. Place eye-catching, informative signage that clearly advertises your BOGO sale or free gift promotion. With clear signage, you give customers fewer reasons to walk away from potential purchases. 
5. Your Store can Turn Over More Inventory
Retail merchandising can help you sell more items to window shoppers who just casually stroll in. With every sale, you make space to add more. So of course, over time, you'll see inventory more quickly hitting the floor, which means less product taking up space in a backroom or warehouse.
Use an inventory management system, like Thrive Inventory by Shopventory, to automate re-ordering so you never run out of stock. 
6. It Builds Brand Loyalty and Recognition
Retail merchandising plays a big part in building a brand's reputation. From their display windows to their actual shelves, the biggest names in retail made lasting impressions with retail merchandising that leads to strong brand loyalty. Think about the famous department store windows decked out for the holidays come wintertime: The visual spectacle alone brings thousands of visitors who come to associate your brand with beautiful merchandising – and products to take home with them.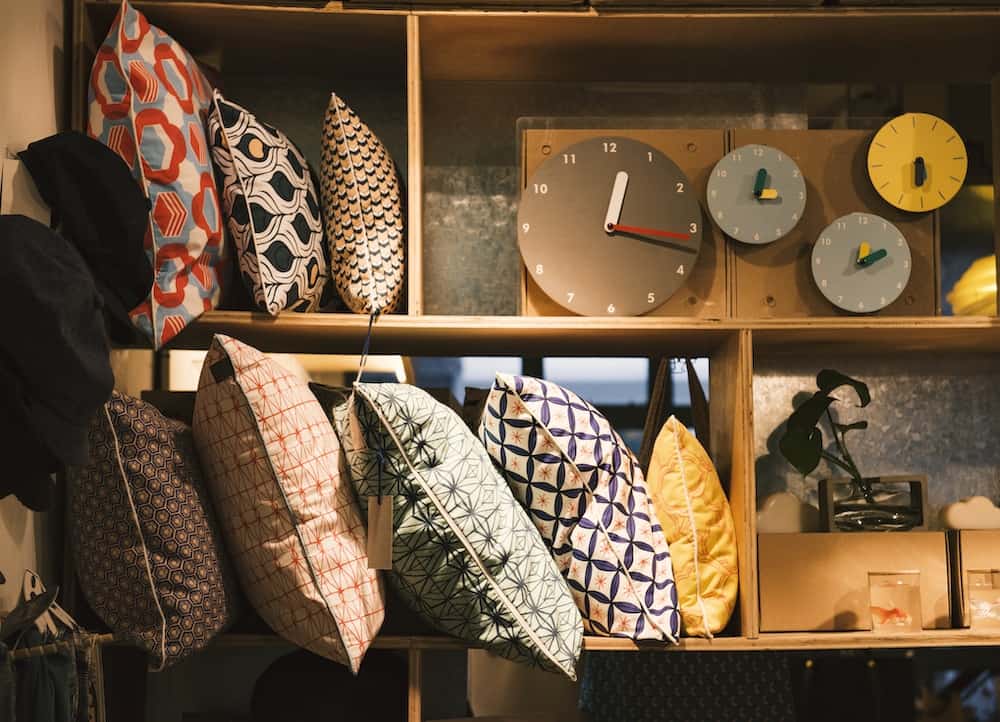 What are the Types of Merchandising?
Retail merchandising is only the start. To stand out, you'll need to incorporate other merchandising strategies into your plans.
This type of merchandising comprises all efforts you take to sell an item. Like retail merchandising, it can include shelf displays and other visual cues. However, product merchandising generally refers to strategies around one product, rather than all your products. Consider a skincare line: Which of the 6 items in your product assortment do you expect to be a bestseller? If you think the oil-free moisturizer will generate the most sales, product merchandising will focus your efforts on that one product.

In visual merchandising, your lighting, floor plan, colors, store fixtures, and more are all taken into consideration. You'll handle these areas in four parts: your store's exterior, interior, store layout, and interior display. The goal is to create a compelling atmosphere from beginning to end, using all the tools at your disposal.
3. Omnichannel Merchandising
This involves all promotional efforts you undergo at every customer touchpoint, including your brick and mortar store, website, and third-party marketplaces. Your goal should be to make your shopping experience seamless as your customer moves among touchpoints, from digital marketing to retail execution. It can include product placement in a store window and a website home page, featured products both in-store and online, email marketing for in-store deals, and more.
How to Create a Retail Merchandising Strategy
Know your target customer.

Who is the person most likely to buy your product? Tailor your retail merchandising strategy toward that individual. If the target customer for your sports equipment store is a middle-aged athletic individual, your displays could incorporate weights, sneakers, and running belts.





Creating buyer personas is a great way to develop this part of your strategy. A persona includes demographics like gender, age, marital status, and income level, while considering emotional connections to your products and brand. Select the display products that are most likely to appeal to these customers, and focus on creating displays that feature these items.




Consider your brand

. Your store is more than just a logo. Colors, shapes, patterns, and messaging all play a part. Utilize visual merchandising as another opportunity for your customer to interact with your brand, creating additional and authentic connections to who you are and what you do. Don't copy the famous Apple Store modern aesthetic because you like it – only implement those elements if they truly represent your business.




Use data to experiment

. Take your customer's lead with data collection, information which you can then use to optimize your retail merchandising plan. After all, you can't know what attracts shopper interest without trying a few methods. For omnichannel merchandising,

A/B testing your website

can help compare and contrast two designs to see which performs better among your target customer base.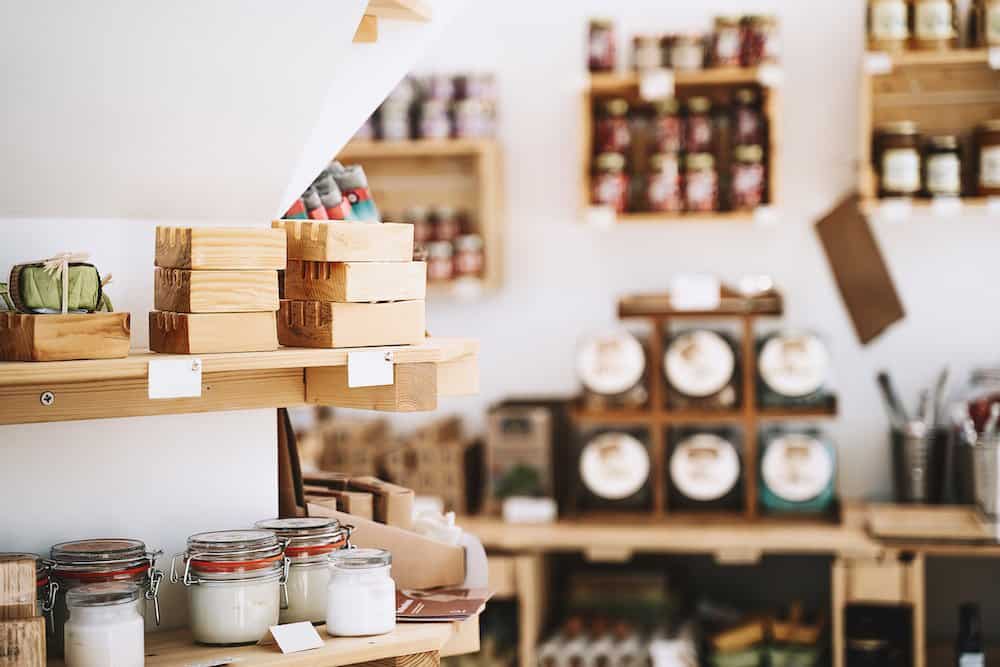 15 Retail Merchandising Best Practices
When possible, you should incorporate all four types of merchandising into your promotional strategy. Sounds like a lot, right? Well, it certainly doesn't have to be. Below are some retail merchandising tips and best practices for each type.
Retail Merchandising Best Practices
Some ways to make the best of your retail merchandising include:
Prioritize your shop window displays

. Creating an eye-catching display can be simple, with props like neon triangles that you can assemble into a colorful backdrop. It just takes cardboard and paint! Remember, it doesn't need to be an expensive affair: It just needs to get window shoppers to stop and look.



If props aren't your style, try some out-of-the-box product displays, like hiring local artists to make something beautiful. Love greenery? Add a few plants or build a "living wall." Remember to retain some negative space in your display, add some fun backlighting, and you'll be well on your way to interesting retail displays that get window shoppers to come inside.


Keep your store tidy.

  Clean shops demonstrate the pride you have in your shop and the respect you have for customers who come in and explore. Sparkling floors and dust-free shelves are inviting, emphasize product quality, and contribute to an overall positive environment and customer experience. Don't forget the outside of your store, either! The vast majority of shoppers say that

a neat exterior influences the decision

to come inside.


Choose a theme.

Consistency is key in retail marketing, and a unified theme helps you achieve this consistency. Choose a theme that makes great use of bright, eye-catching colors. Floral displays are a great example, as are beach vibes that use light blues and sunny oranges. Consider a theme that lends itself to the

five senses and sensory marketing

to tie all your efforts together. 


Change things regularly

. The same stale display can leave customers uninterested. One of the best retail merchandising tips is to keep things fresh. Start by changing your window and aisle displays monthly or twice per month to reflect your newest arrivals and deals.




Work in groups of three.

Whenever possible, in-store product displays should include trios of items. Arrange different-sized products together to create triangles or asymmetrical shapes on display tables, in window displays, and other places in your retail store. Doing so will keep your customer's eyes moving and engage their brain on a subconscious level.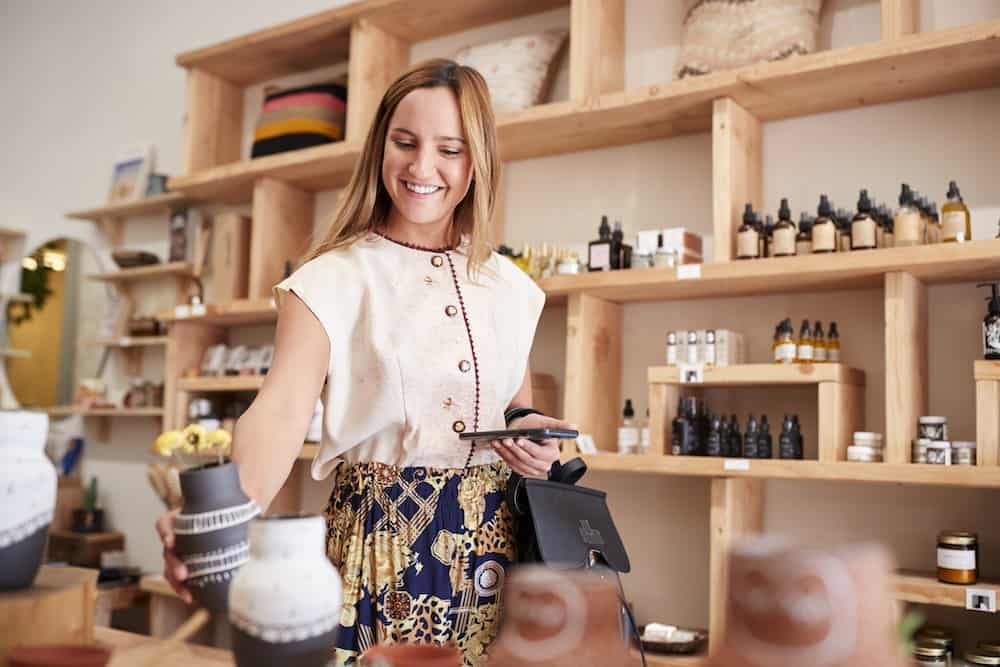 Product Merchandising Best Practices
The product merchandising ideas can help as you create displays that draw in passersby:
Keep it minimal

. A product surrounded by few other items does not compete as much for  shopper interest. Think about it like this: When you stroll the bread aisle at the supermarket, isn't it challenging to find just the right loaf? But by displaying only a few loaves in store, customers have an easier time making decisions. This is called

decision fatigue

in your product assortment strategy: Too many options, and your customers may become overwhelmed.





Place markdowns near products

. Promotions

influence every stage of the buying process

. In store signage that clearly indicates markdowns right next to the display items you want to sell can be just the bump your customer needs to take that item home.





Go for photo opps

. If you look at your product display and think, "I'd take a picture of this and post it," you're on the right track. We're not saying customers will line up in droves to take pictures, but we

are

saying you'll get their attention. And maybe the product on display will wind up in their cart.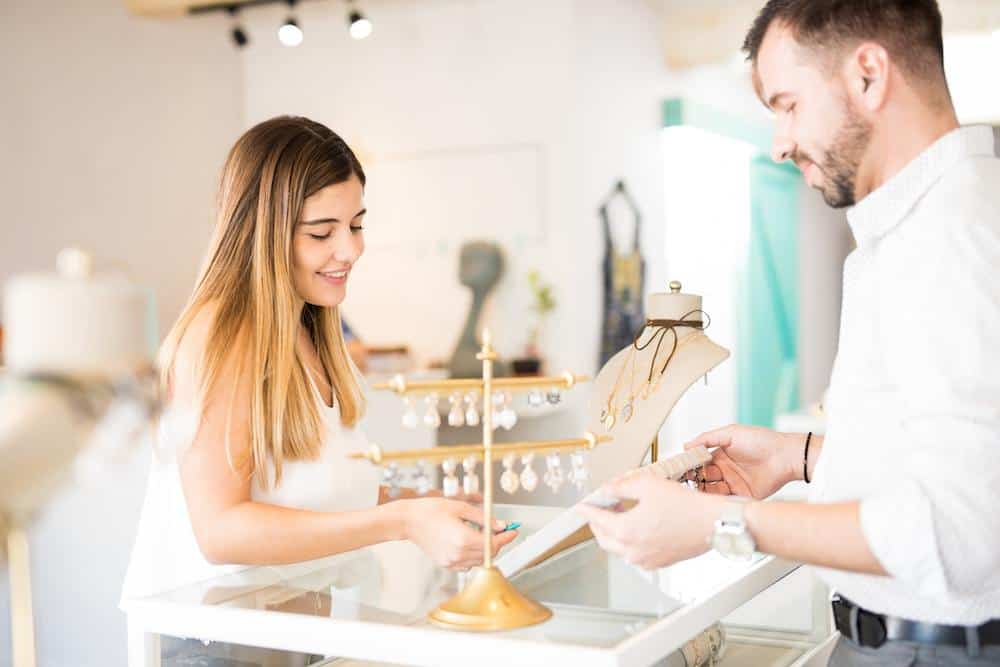 Visual Merchandising Best Practices
These merchandising tips can help you get the most of your store in your promotion.
Go beyond visuals.

The name "visual merchandising" is a slight misnomer. It should really be "full-store merchandising." That name hints at how this type of merchandising should appeal to all the senses.

Stimulating music and fresh aromas

can provide a more immersive customer experience that can, when coupled with a fantastic retail merchandising plan, generate more sales.

 

Direct customers with in store signage.

Your favorite clothing store likely labels its men's and women's sections clearly. That's a great example of informative signage that can get your customers where they need to go. Creating signage can ensure shoppers that they easily get to the products they need, resulting in a seamless and positive retail store experience.

 

Emphasize color.

According to color psychology, the hues around us can

sway emotions

. For example, fiery red can stir up strong emotion, while cool colors like green and blue invoke calmness and feelings of trust. The hues you use in store can deeply influence customer perceptions and actions.

 

Use the right lighting. Bright, white lighting can have a profound effect on your in-store merchandising plan. For example, softer, warmer tones can create a cozy atmosphere.

Consider spotlights on a display table to highlight a best-selling item. Use dim light sparingly, especially on tabletops and stairways, and always search the bargain bin for creative lights such as string lights. Light your window display too so that it's clear you're still open after dark. And when lights are flickering or dirty, take care of it so your customers see that you take pride in your shop.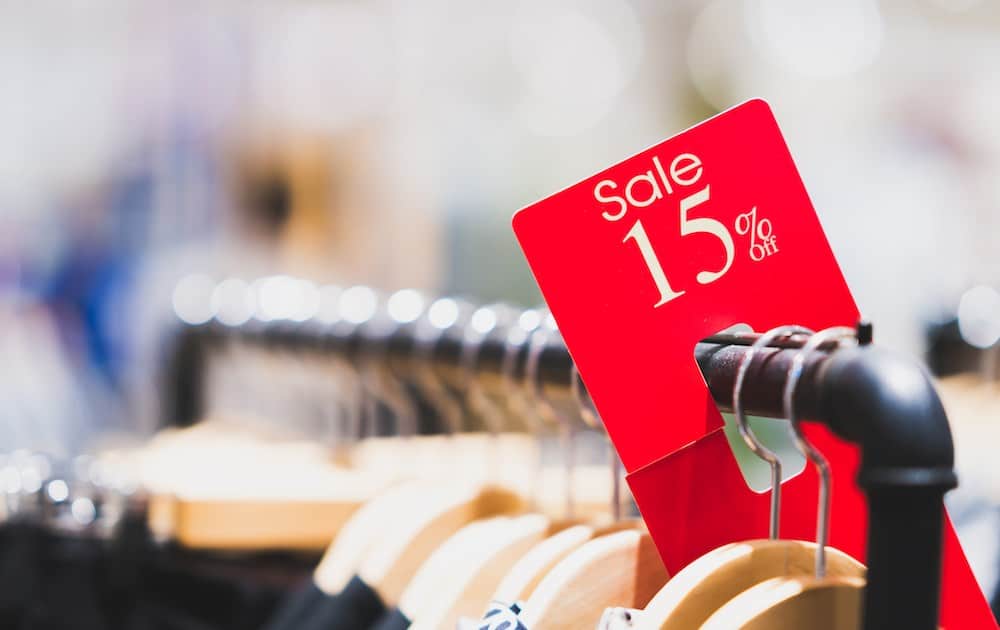 Omnichannel Merchandising Best Practices
Omnichannel retailing and merchandising best practices fall into the below categories:


Product placement

. Whether online or in-person, arrange your products to highlight best selling items. This typically involves placing best sellers on the homepage or prominently in email marketing or social media marketing. While this may be more difficult to enforce with third party resellers, you can provide to them a clear, easy to follow omnichannel merchandising plan.




Recommendations

. Digital marketing plays a significant role in informing  in-person retail sales. The same products that you train your in-person staff to recommend should appear prominently on your website. You should also design your website to automatically suggest certain products as customers apply more filters while browsing your webstore. Similarly, if you're selling anything limited-edition, those products should appear up-front, both online

and in a physical store

.




Promotions

. All brick-and-mortar sales should be valid online as well. This way, you unify the customer experience across all touchpoints. Thus, the decision of whether to visit your website or your retail store comes down to personal preference, not one being superior to the other.
Retail Merchandising Means Putting the Customer First
Retail merchandising has numerous benefits and approaches that all share one thing in common: They improve the customer experience. After all, customers who enjoy shopping with you are more likely to buy from you.