Each one of the 32.5 million small businesses in the U.S. has its own unique selling points, even if they're in the same industry or speaking to the same customer base. So to differentiate themselves from others, each of these companies forms its own new brand identity.
Creating a strong brand for your business can help you stand out, attract new customers, and bring existing ones back to your digital or brick-and-mortar door. Below, you'll learn everything you need to start building a strong brand for your business that appeals to consumers and positions you above your competitors.
What is Branding in Business?
Branding is a marketing concept that helps customers identify your business and lets customers know what to expect from your company. It's a practice that aims to shape people's opinions of your business and separate your company and its products from competitors. 
Some small business owners may think that branding is just a logo, but creating a brand involves much more than that. Many aspects are involved in creating a small business brand, including visuals, the written word, and brand reputation, for starters.
Importantly, there's a distinct difference between branding and marketing, although they are related. Marketing is how your brand reaches your audience, whether that's through email marketing, direct mail, social media, or some combination of multiple efforts. Marketing activities are not a part of your branding, but your brand influences your marketing strategy by shaping who may buy your products and why.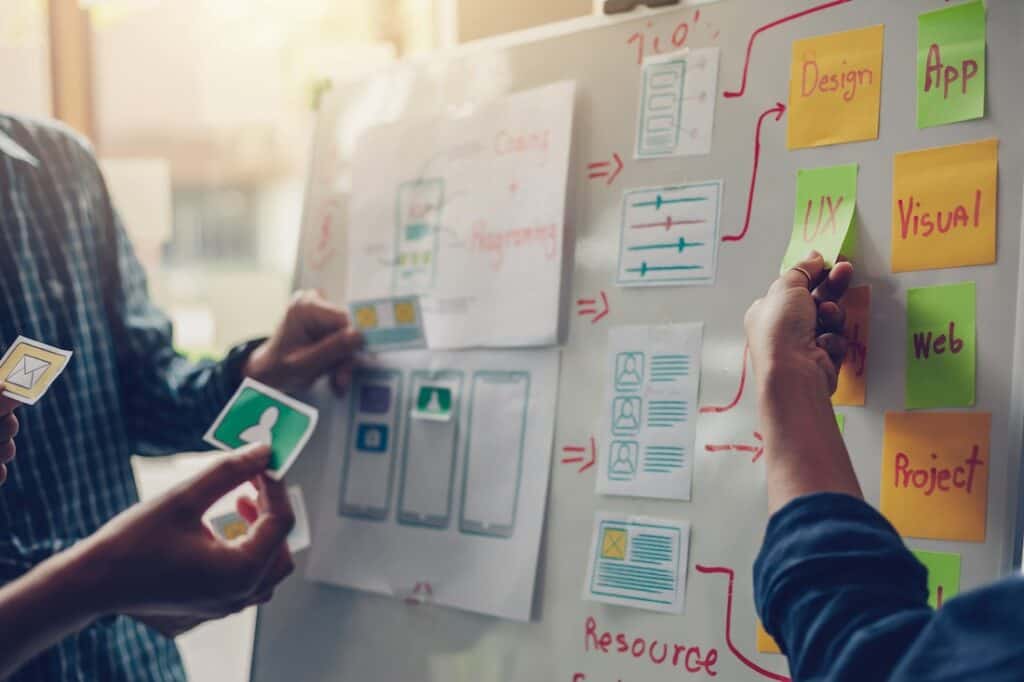 Why is a Small Business Brand Strategy Important?
Your brand is how both potential and existing customers identify who you are and what you have to offer. Having an effective brand strategy can help set you apart from other small businesses that are selling the same products or offering similar services. It's what attracts customers to your business and communicates with them if you share their values, an increasingly important element in the era of increased customer social awareness.
It makes you recognizable online and offline
There are a lot of moving parts when it comes to your brand, especially since your company needs both an online presence and in-person marketing strategy to be successful. A united and cohesive brand can help customers recognize your hand-poured candle brand on Facebook, on its website, and through store signage. 
Consumers use visuals that are a part of your brand to recognize your business. Your logo, colors, and fonts are all symbols of your brand and, over time, people will begin to associate the elements of your brand with your business, both in-person and online.
The same way your brand makes you stand out among competitors is how your customers will remember your business. A strong brand can get customers thinking and talking about your business, whether they see your Google Shopping ad for artisan soaps on their computer screen or an Instagram post featuring your latest lavender-scented bars on their timeline. These conversations and interactions can make your brand seem familiar when customers are deciding which items to purchase.
It attracts visitors to your shop
Memorable and professional branding has the power to bring new customers to your door. A clean and polished brand identity communicates to passersby that you're trustworthy, distinct, and put great care into the customer experience. 
It also plays a significant role in communicating to customers what they can expect from your shop. Earth tones and leaves make it clear that your plant shop is open for business.
You look more professional
Businesses that people perceive as professional are often ones that have strong brands. These companies don't just sell whatever products they find and hope something sticks. With a strong brand strategy, you're giving customers consistent, intentional messaging about the nature, purpose, and goals of your business.
Branding brings customer loyalty
There's a feeling of confidence you have when reaching for some of your favorite products, that's brand loyalty. You might have a go-to brand for shampoo, footwear, or home decor. When you see that brand's signage in store or the logo in a marketing email you receive, your customers know to expect the same quality they've received before. And considering it's much more cost-effective to retain current customers than draw in new ones, a strong brand is in your company's best interest.
It helps customers form an emotional connection with your business
Your brand is essentially your business's personality. Whether you use humor, candor, or humility in your messaging, the goal of your brand should be to connect with your customers on a deeper level than just making a purchase. As customers find your brand relatable, they can form connections with your business that cause them to see your products or services as useful additions to their lives.
Brand Identity vs. Visual Identity
Your brand identity includes all core elements of your brand, including its visuals, mission statement, and brand voice. They're the solid foundation that makes your business what it is and the elements you'd include in your value proposition. 
Your company's visual identity is simply one part of your larger brand identity. It's how shoppers physically recognize your brand. Your logo, company colors, fonts, and imagery are some examples. These elements often appear on advertisements, business cards, social media, websites, and employee name tags.
How to Create a Brand Identity
A buyer persona is a profile of who you want to attract to your business. It allows you to imagine your target audience as a single person to determine how to best market your business to them. It describes specific characteristics, lifestyles, buying patterns, and demographics of this group. This way, you can create a brand that resonates well with your target audience. 
Creating a buyer persona starts with identifying specific behaviors and attributes of your ideal customers. This can include gender, age, economic status, brand preferences, and other data. From there, you can fill in your profile with research from actual customers.
2. Research your competitors
Studying your direct competitors can help you identify new ways to reach and connect with customers. While you don't want to directly copy your competitors, there may be some new strategies you can learn and adapt for your brand based on your competitor research. For example, if a competing shoe store in the next town begins to offer curbside pickup, it may be a signal for you to offer the same or similar services.
Take notes on your competitors' approaches to social media, advertising, and public reception. From there, you can determine which aspects are working in their favor and find ways to advance or change up your techniques. The result is a standout, stellar brand.
Your brand story is a narrative that describes your business at its core and what makes it relatable to consumers. A brand story includes an explanation of your business's values, the solutions your products solve, what drives your business, and its vision for the future. You may also include elements of your brand's origin story. 
Your brand story should be both informative and compelling to your target audience. It's a perfect addition to your company website's "About Us" page, or to include in pamphlets you have on display at your shop.
4. Build and document strong visuals
The key to a strong visual identity is consistency. Use the same logo, icon, colors, patterns, and other visual elements at all touch points in your marketing materials. This includes online and in-person elements.
It's good practice to create formal brand guidelines that outline how the logo, icon, colors, and other visual elements are used. This document, called a brand style guide, outlines your brand's identity in one place. That way, anyone you work with can follow the essential elements of the strong brand identity design you created.
What does Branding for a Small Business Include?
Your company name is how people refer to your business. It tells a lot about who you are and what you do for people who have never shopped with you before. It also gives existing customers something to remember when it comes time to buy more towels or dinner plates.
While they are sometimes used interchangeably, mission and vision statements can bring distinct value to your company. Your company's mission statement defines your business's purpose and its current objectives. It's the why behind what you do. A vision statement describes your business's broader aspirations. Clearly defining these statements gives customers a look into your business's efforts and can help customers relate to your brand and business.
Your brand values are what your company stands for and holds close to its heart. Humanitarian efforts, environmental sustainability, transparency in the supply chain, and a commitment to innovation are some examples of brand values that a company may hold. These core values can help build customer loyalty and encourage repeat business from customers who hold those same values. You can communicate these core values to customers in a value proposition that's a part of your marketing strategy.
Your brand voice is the tone that carries your business's messaging to customers. Are jokes and quirky lines announcing your electronics store's newest promotion, or is an inspirational and positive tone motivating customers to buy laptops and smartphones at your shop? Setting a consistent brand personality for your company can help enforce your brand values and influence the way customers see and interact with your brand and company.
Your brand's reputation has everything to do with how people perceive your business. What do you want people to envision or feel when they think of your company? Potential customers are drawn to companies with strong, positive reputations, as these businesses have earned trust among their existing customers. Whether they're reading online reviews or asking friends and family for recommendations, your reputation plays a key part in securing these coveted endorsements. As you put together your brand's visual identity, don't forget to keep an eye on this important element of your branding, too.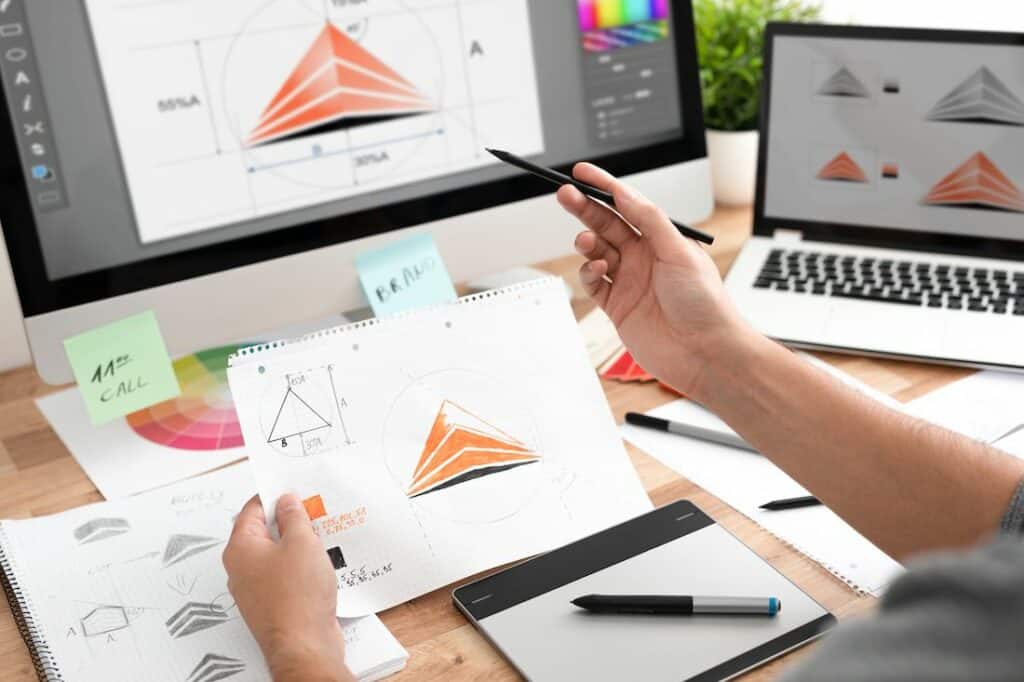 A brand's logo is a visual representation of your business. It's one of the first branding elements business owners seek to create, as it gives consumers a recognizable brand to remember. It should grab consumers' attention, be different from your competitors, and remain consistent across all platforms both in-person and online. 
In many cases – take Apple, Coca Cola, and Starbucks as some famous examples – a business's logo becomes just as well-known as the company name. This creative expression of your brand becomes synonymous with your company over time, so keep that in mind when creating your logo. However, remember that it's not the be-all, end-all of your branding – there are many other aspects to consider.
Colors have a profound effect on how your customers feel about your company and how they perceive your brand. As a part of your brand's visual identity, the colors you choose not only help customers remember who you are, but they communicate what your business stands for. For example, a green and brown color scheme associated with nature would be a natural choice for an organic granola company.
When choosing your brand colors, opt for a consistent color palette. There are multiple methods for choosing brand colors, but what's most important is that they are the same at all touchpoints, both in person and online. This way, color and other sensory marketing techniques become a deeply memorable and recognizable part of the branding you create.
For online shoppers, your website is the primary way they'll experience your business. For this reason, your website is one of the most important aspects of your brand. Your logo, colors, brand personality, and so many other brand assets all come together in this digital real estate to virtually reflect your business.
For those customers who opt to shop in person, your website is still a crucial source of information. Operating hours, information about picking up in store, and location are just a few of the bits of information in-store shoppers need.
Imagine visiting a website where one page uses green and black colors, another page has a red and blue theme, and the logo is purple and yellow. You might feel a bit scattered and confused as you're browsing the site. You might wonder about the true identity of the company's brand. Your customers will have the same questions, which can have a negative effect on your brand.
Consistency throughout all aspects of your business gives your brand a sense of cohesion. The perception a customer gets from one page of your website should be the same idea they receive from the next page or inside your store.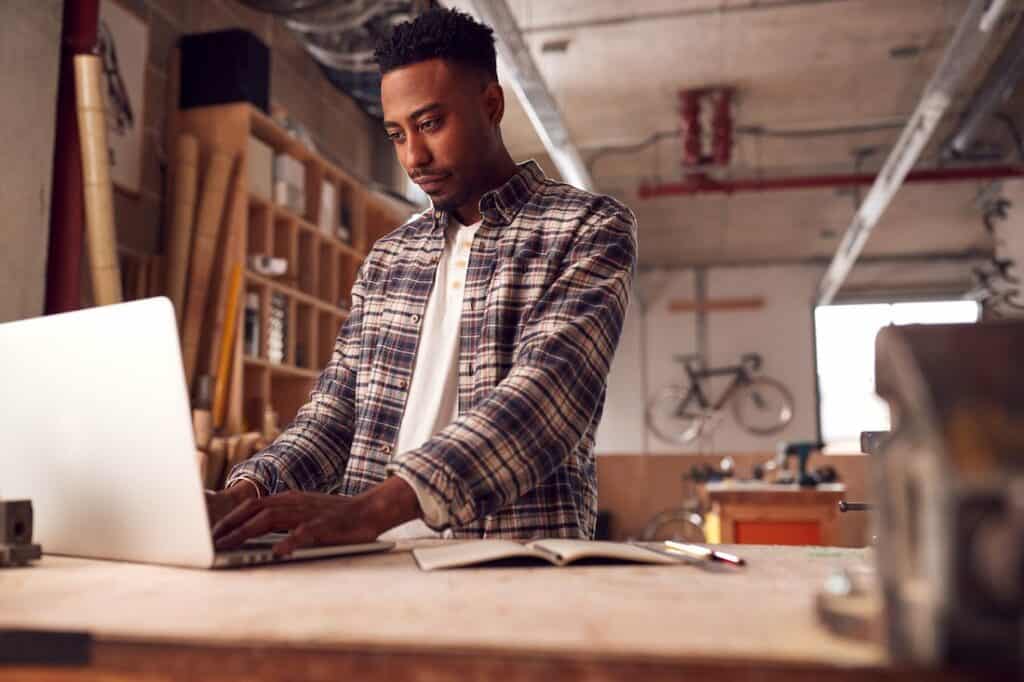 Free and Affordable Tools that can Help You Brand Your Business
If you don't have an email newsletter, it's time to start! It's one of the easiest ways to reach customers and get your brand in front of them. 
With Mailchimp, you can automate your newsletters, manage customer databases, track analytics and reports, and integrate survey tools to assess your customers' opinions. Each element can be customized to your brand's preferences, including adding your logo and choosing your brand colors for all elements. 
Mailchimp offers an initial free plan, so you don't have to lay out any cost to give this new strategy a spin. You can also integrate it into your website, text message marketing, and other elements. 
Business cards are a great way to show your brand to customers. Even in the digital age, business cards still make a memorable splash.
Moo Cards
provides a few options for owners of small businesses to design and print cards that showcase your identity. In general, MOO Cards allow you to use your own artwork or photography in your card designs. You can also use their free designs, change the colors to your brand colors, and simply add your logo.
Maintaining an active presence on social media is an essential part of building your business's brand. But planning and making posts can be time-consuming tasks on top of all your other responsibilities. The right tools can help simplify this task.
Buffer can help by consolidating your social media accounts – Facebook, Twitter, and LinkedIn specifically – and sharing your brand content automatically. This way, you don't have to remember to post throughout the day or week. Buffer's free plan allows you to manage up to three social media channels at once, making it a great option for startups and small businesses.
When you send out email newsletters, you want them to include your company's visual elements as part of your cohesive and strong brand identity. And when the average person receives more than 100 emails every day, it takes a lot to grab someone's attention.
Smore is a service that allows you to create beautiful interactive newsletters easily and quickly. Even with its free version, you'll find templates, designs, and color options you can build on to create visually appealing and informative content for your brand. It's an excellent option if creating designs is not your strong suit.
As you plan a strong brand identity, you might want to visualize some of these aspects before taking them to the public. Creating a mood board can help you plan and solidify your brand's visual elements. A mood board is a tool that contains images, text, and other samples that capture the aesthetic you want your brand to portray.
Along with thousands of other graphic design features, Canva has tons of themed templates to spark some ideas for your brand's visuals. And with Canva's free plan, you can access more than 250,000 templates to kickstart designing your business's brand elements. This content includes designs for social media posts, flyers, logos, and so much more.
To help you dive even deeper into the world of business branding,
Skillshare
offers affordable online classes taught by industry leaders on all sorts of design topics. You'll find tutorials on calligraphy, hand lettering (great for shop signage!), general branding, Adobe software, and a host of other useful courses. If you plan on taking multiple classes, consider their $32/month membership.
Whether you're developing a new brand or refreshing your current company, brand building is essential to bringing in more customers and increasing sales in your target market. A successful brand involves multiple moving parts, including what your customers see, what they think about your company, and how they feel when they interact with your business. Balancing them all is an important part of successfully winning the hearts – and purchasing power – of your target customer base.