With a wholesale e-commerce site, you can provide a seamless experience for bulk purchases while automating much of the sales process. Here, you'll learn more benefits to selling wholesale online and key tips for choosing a platform that suits your business and wholesale buyers.
What Is A Wholesale Website?
A wholesale e-commerce website is a B2B (business-to-business) store that connects retailers to your wholesale products and allows them to purchase those products in large quantities, typically at a discount. You're still acting as an intermediary between a manufacturer and other businesses, but instead of taking orders over the phone or in person, you're selling to those same wholesale customers online instead.
While it functions in the fundamentally same way as any other e-commerce site, wholesale e-commerce offers detailed information about your products that's particularly useful for retailers. This kind of site offers business tools designed for selling wholesale that the average customer doesn't need to use.
Importantly, a wholesale website can be set up to only allow sales to certified resellers. Depending on its setup, this site can either look similar or entirely different from your website that sells products directly to consumers. Some set up their own e-commerce wholesale websites separate from the retail one, or they may offer a portal specifically for wholesale shoppers.
Why You Should Consider Setting Up A Wholesale Website?
It simplifies the wholesaling process
At times, wholesaling can be quite a challenge. Managing price points, retailer contracts, and inventory levels can keep you on your toes. If that concern has kept you from entering the wholesale market, rest assured: A wholesale e-commerce platform streamlines and automates significant parts of the sales process, simplifying everything for both you and your customers. 
Build out a better wholesale catalog
Spreadsheets and PDF catalogs might work when you only have a few products. But as your wholesale business grows, so will your catalog. Having a wholesale e-commerce platform gives you tools that make your products come to life. Videos, reviews, and even user-generated content increases your customers' confidence in your products and testing them out in-store.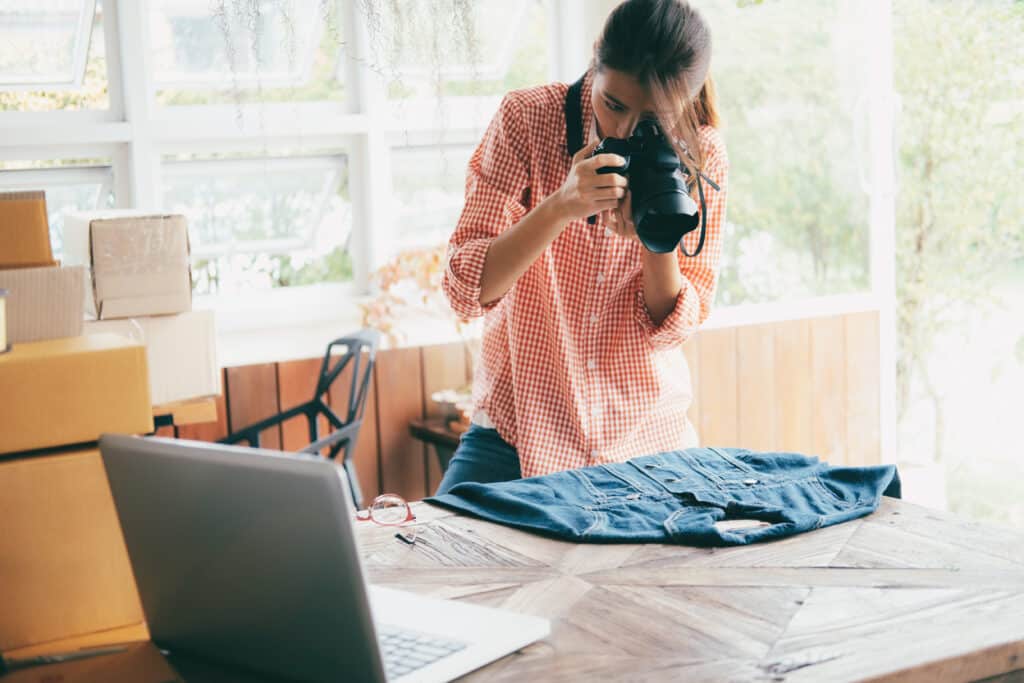 Let's say your wholesale business sells bedding. You can create an online collection of products recommended for home goods stores and a separate collection for boutique hotels. By customizing the experience for different verticles, you increase product discovery and reduce time shifting through hundreds of products for your retail customers.
With an inventory management system you can update all of your products across your wholesale website and retail sales channels from a single platform. Not only does that save you time from manually editing each line item on a spreadsheet, but it ensures accuracy across all the ways you sell. 
Simplify Your Business With Wholesale Inventory Management
Power all the ways you sell with one inventory and catalog management platform with built-in wholesale capabilities.
You can scale faster and break into new markets easier
The number of wholesalers entering the market has increased every year for the past five years. The competition is tough, and you'll need to consider ways to stay ahead of the pack. An easy to use, convenient website can attract more customers who want to place wholesale orders on their own terms.
Moving your current processes online is key to a streamlined online experience. Replacing phone calls and scanned forms with digital tools for sales, shipping, inventory management, and other essential tasks can help you get more done in a day. Everything from accepting initial orders to collecting and storing important tax documents can be run through your website, which keeps your back of house organized as well.
And while you may start off small, the digital tools you put in place now will enable you to keep up with fast-paced growth. With such handy digital shortcuts, you can take on more wholesale orders, ship out more products, reach more customers, and increase your profits.
You attract more long-term customers
Both wholesale e-commerce businesses and retail customers can take advantage of a straightforward bulk buying process through wholesale e-commerce. Customers of all kinds want to feel confident you'll handle their wholesale orders accurately and efficiently, and a professional, polished wholesale e-commerce site goes a long way to leaving that important impression.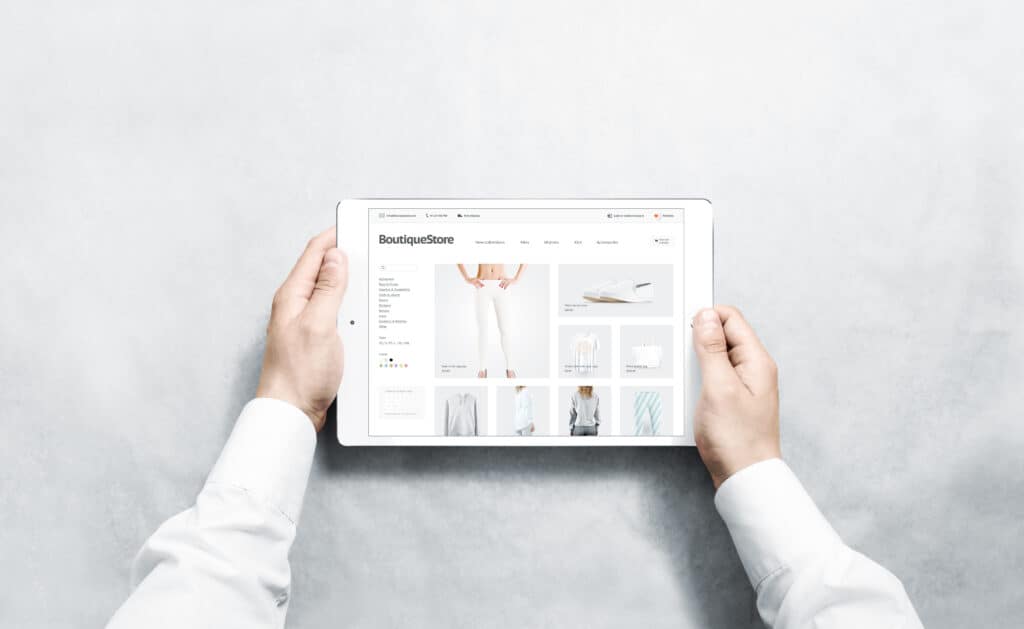 With the online and automated tools involved in wholesale e-commerce, you can help build this trust with your customers. From there, they may feel confident signing long-term contracts with your wholesale business. Wholesale e-commerce makes the buying process easier for everyone – who wouldn't want to commit to that?
How Does Wholesale E-Commerce Work?
With wholesale e-commerce, the entire sales process happens online instead of in person or over the phone.
When selling B2B wholesale, you'll first have to verify your customer is a verified retailer. Once they've uploaded the appropriate credentials, they'll be granted access to your website, whether by entering a password-protected area or by providing a code that authorizes their purchase and moves them along in the checkout process. However it's done, your customer will access lower rates.
What Does A Wholesale E-Commerce Website Need?
A web hosting solution, also called a web hosting service, is one of the basics of operating a wholesale store. It's where the content on your site "lives." There are several types of hosting solutions, from ones that offer shared hosting to dedicated servers that ensure fast speeds and loading times. The one you choose depends on the kind of traffic you expect to come to your B2B e-commerce site, your budget, and what your chosen provider offers.
You need to decide how you want to accept payments from your customers. Credit and debit cards are the most common methods. If you want to accept multiple payment methods, you'll need to set up a merchant account so you can process these transactions. You can also offer alternative options such as PayPal, Amazon Pay, and Stripe. These services are designed to integrate with B2B e-commerce sites.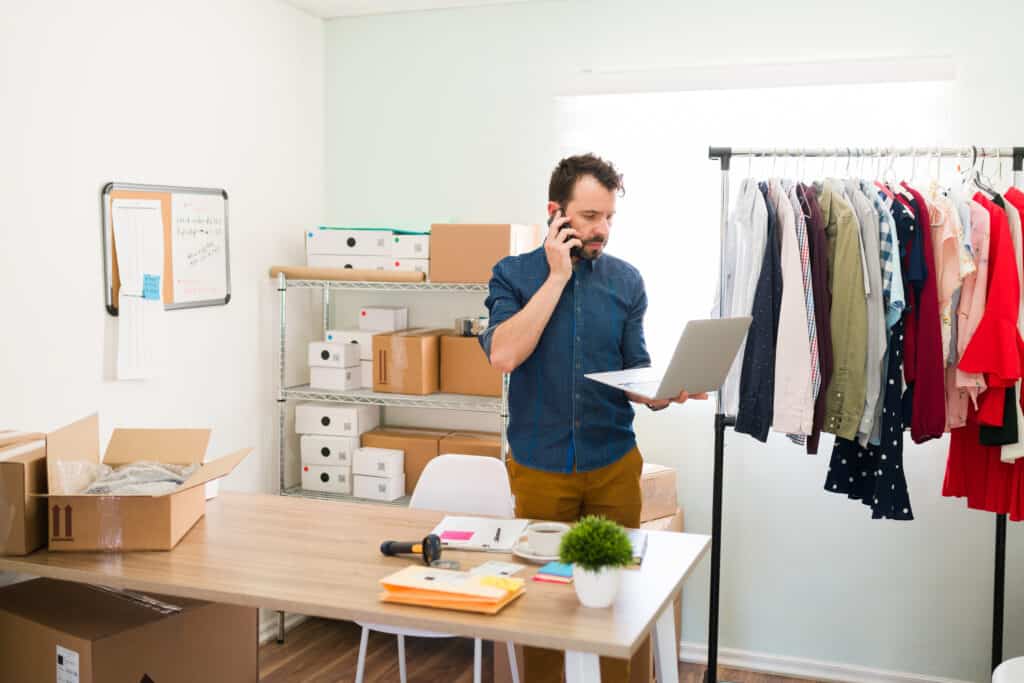 3. Account creation solution
You can offer guest checkout on your wholesale e-commerce site so customers can make quick purchases. However, allowing customers to create accounts on your websites offers an advanced way to keep account information organized. With their own login, your customers can quickly see what they've purchased in the past, upload important documents, and receive personalized shopping suggestions. It also offers you insight into who's returning to shop on your e-commerce platform. That's data you can use later to grow your business.
4. A search function on the website
With the vast number of products and varieties you have on your B2B e-commerce site, buyers need to be able to quickly find the products they want. Offering a search tool that lets visitors type in exactly what they're looking for can help customers get to what they want to buy faster.
It's a good idea to go beyond a basic search bar. Consider offering advanced filtering options on your wholesale site so customers can view by specific criteria, such as size, color, weight, and product rating.
Your wholesale e-commerce website will process tons of credit card information on a regular basis. Customers want to know their financial information is safe when they're making purchases on your website. Having a secure data storage program is essential to give both your customers and yourself peace of mind. At minimum, you want to purchase a secure site license (SSL), which signals to your customers that their information is safe on your website. Tools like 2-factor authentication can help reduce fraudulent transactions as well. 
Automatic security updates to your site can help keep your website safe from the schemes of hackers. Your website administrator may conduct security updates automatically. Be on the lookout for frequent updates, too. With so many moving parts on your website, a security threat could come from anywhere, so it's important that security updates are installed immediately.
Sure, the main goal of your B2B e-commerce site is to drive product sales, but you should also focus on expanding your website's reach so you can grow your wholesale business. Having the proper marketing tools on your website is key to promoting this growth. Planning marketing campaigns around winning more wholesale customers can capture new leads and convince them to shop online with you.
Once customers get to your site, you can encourage them to buy more while they're there. You can have upselling or cross-selling features that suggest products based on visitors' history on your site. A content marketing strategy involving a blog, product videos, and product guides are also ways to convert potential customers.
How To Choose A Wholesale E-Commerce Platform
Consider how much of the platform you want to control
There are two main types of B2B e-commerce platforms: self-hosted and cloud-based. With  self-hosted e-commerce platforms, you're responsible for finding a hosting service, installing the program, and regularly updating it. This option can be more expensive, but it gives you greater control over your wholesale e-commerce business's data and security along with more customization options.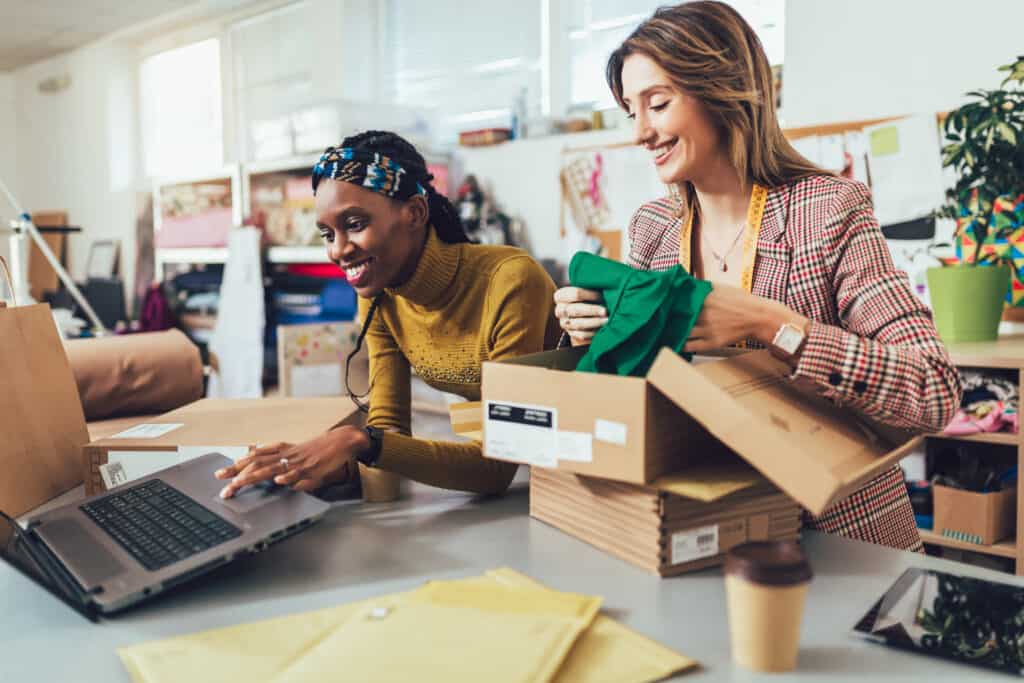 A cloud-based e-commerce platform is delivered through a service such as Amazon Web Services. This type of e-commerce platform is typically less expensive than a self-hosted platform. The platform has its own data and security features, but you won't be able to customize as many of the server elements.
Just like every B2B e-commerce platform has its own features, it also comes with its own price and pricing options. You'll typically pay a monthly rate for whatever platform you decide to use, not to mention costs associated with designing your site, adding new products to the site, and costs associated with producing assets for each product page. Consider your business's budget to help weigh your options.
You'll need to make sure you're budgeting for essential features. Try not to skimp on any services you need to run your wholesale e-commerce business smoothly just to get a lower price. For example, some platforms have relationships with different payment processors that come at different rates. If securing a certain rate is important to you, wholesale e-commerce platforms that let you use your own processor might be more important to prioritize than one with a built-in solution. Look into each platform's licensing fees, contract terms, maintenance costs, and overall annual costs to help you avoid any surprises.
Identify your essential site integrations
B2B e-commerce website integrations are key to delivering the unique, quality experience your customers expect. Make sure any platform you consider offers all the necessary integrations and plugins needed to keep your wholesale business running properly. Some may allow you to use whichever tool you'd like, while others may have exclusive partnerships with a few vendors.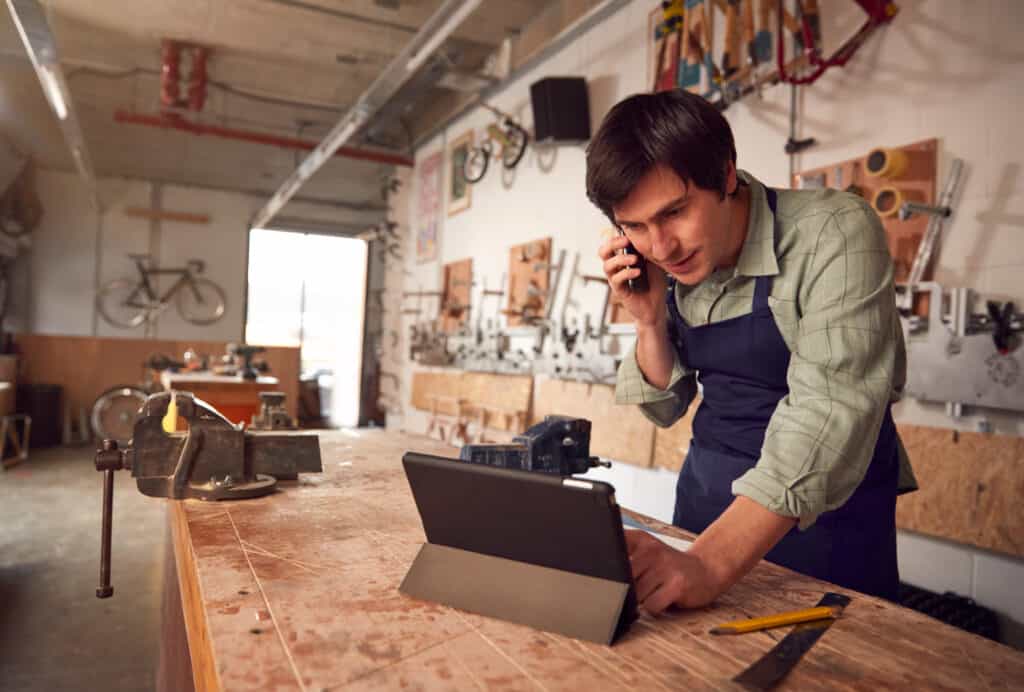 Some key features for a B2B e-commerce site include email marketing tools, accounting tools, and inventory management. You might also want a platform that allows you to create a loyalty program. This way, you can reward the customers who shop with you frequently.
Inventory Management For Wholesalers
Thrive Wholesale connects your entire inventory pool, including your wholesale e-commerce store and retail shop, to automate complicated fulfillment processes. Tools like custom price lists, direct ordering, and variant pricing are designed to simplify your wholesale business.
Examples Of The Best Wholesale E-Commerce Platforms
Shopify allows you to create a wholesale e-commerce store that's an extension of your main website. This wholesale e-commerce platform gives you detailed options that let you set prices specifically for your wholesale e-commerce customers. You can manage both simple and complex customer profiles, automatically track order and payment status, and offer wholesale buyers a clear view of important checkout information.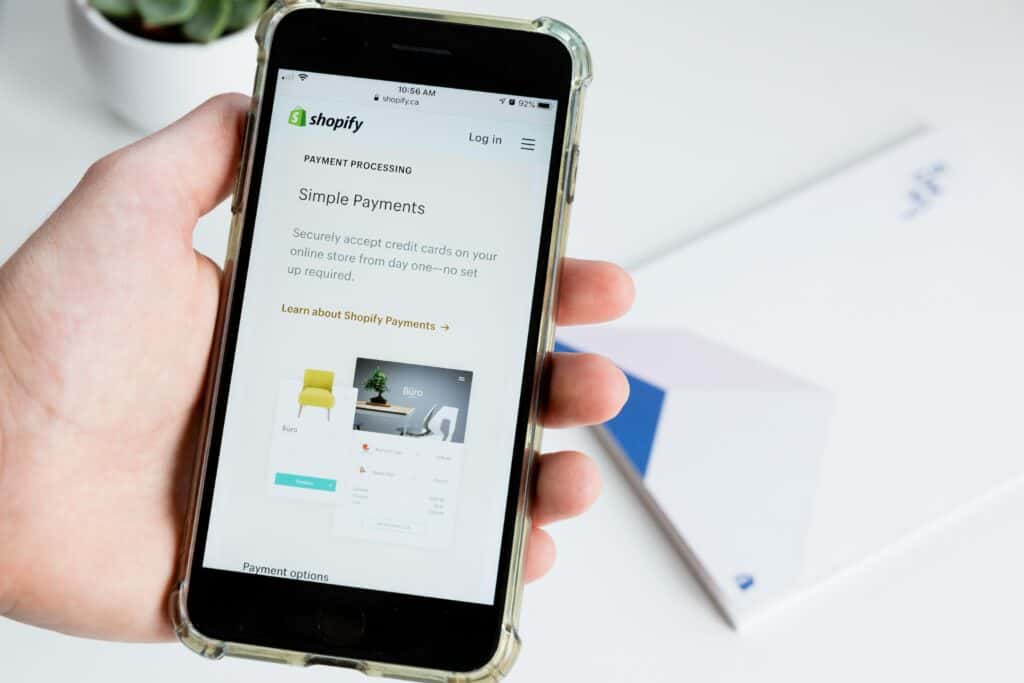 In addition, Shopify offers a wholesale marketplace e-commerce platform called
Handshake
. The platform offers retailers a place to browse and discover unique products from all over the U.S. Handshake can be used with Shopify or with other e-commerce platforms.
BigCommerce focuses on helping wholesale businesses streamline operations. This platform features an easy setup along with several wholesale e-commerce website design options. Once your store is up and running, you also have access to automated customer management that allows customers to customize their buying experience with your B2B e-commerce store. They can view their purchase history and easily reorder products.
When it comes to pricing, BigCommerce lets you cater prices and discounts to fit specific wholesale business customers while also creating prices for entire customer groups. The platform also accepts several currencies and payment options so you can better cater to customers.
Square Online is another payment processing platform making e-commerce wholesaling easier for retailers. You can manage bulk discounts, track unpaid orders, and accept payments, saving time while improving pricing accuracy. 
Square Online also has a great website builder that you can customize depending on your business. You want a store that's simple to navigate and aligns with your branding. Plus, you can even send your wholesale marketing emails through Square Online, keeping everything in one platform.
Expand Your Customer Base Through Wholesale
Wholesale businesses and direct-to-consumer retailers alike can benefit from a wholesale commerce website. Your wholesale business benefits from an easy-to-navigate website that makes ordering and tracking a breeze both for you and your customers.
With the right e-commerce platform behind you, your online store can begin to accept wholesale orders with ease. Choose a setup that meets your wholesale business's needs while offering your buyers a simple yet complete wholesale e-commerce experience. And with the above tips in mind, you can go about building a wholesale e-commerce business that brings your quality products into a large and expanding market.