The Black Friday Cyber Monday weekend is the busiest time for holiday shoppers. In 2021, retail sales rose 14.1% over 2020. Even though supply chain issues continue for retailers, consumers expect convenience across multiple sales channels, availability, and steep deals for the right products. 
The five days between Thanksgiving and Cyber Monday have the power to make or break your profit goals for the year. However, ringing out a customer is just the last step. As Black Friday quickly approaches, now is the time to plan out your inventory strategy.
What Is Black Friday Inventory Planning?
While selling out of a product might seem like an achievement, during the Black Friday shopping weekend it could mean missing out on potentially thousands of dollars of profit. In which case, one aspect of inventory planning means ensuring you have enough product to meet the holiday demand. 
Inventory planning also means focusing on the right types of product for the season to maximize sales during the busiest time. What might be a popular product during the majority of the year may not be what shoppers want during the holidays. 
Creating your inventory strategy to optimize for Black Friday and Cyber Monday sales can seem like an impossible task. That's why we put together this guide to walk you through the steps you need to take now. 
1. Complete An Inventory Cycle Count
In order to maximize your holiday shopping season sales, knowing exactly what's on your shelves and your warehouse is your first step. We recommend completing a cycle count for your top-selling products before Black Friday shoppers arrive. Cycle counts ensure that your inventory records match what is on your shelves and in the back of house by counting small sections of your inventory and making any needed adjustments.
Inventory count errors are common, especially around the holidays when there are a lot of moving pieces. However, without identifying and resolving any miscounts, you are more likely to run out of stock during a Black Friday sale and lose the shopper to competitors.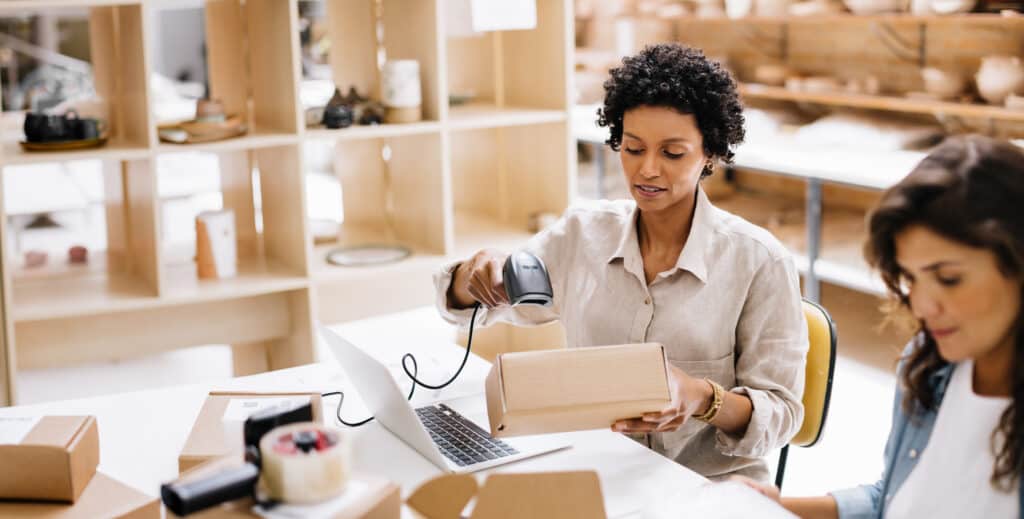 Take note of excess inventory
As your team walks around your store floor and warehouse keep an eye out for excess inventory piled up in the corner you may not have noticed before. Black Friday and Cyber Monday is the perfect opportunity to slap an unbeatable deal on those products. By moving them out you'll have more room to display the products your customers really are looking for all season long.
Invest in inventory management software
It's likely you don't have time to spare when it comes to preparing for holiday shoppers. That's why implementing an inventory management system now will give you the necessary time to clean up your catalog and stock counts before products begin flying off the shelves.
Thrive Inventory automates the cycle counting process so you can ditch pen and paper for a barcode scanner. It also pushes any stock updates to your online store and all your storefronts so you don't have to worry about overselling on one channel.
2. View Your Performance From Last Black Friday And Cyber Monday
Most small businesses face challenges each holiday season due to a lack of visibility in historical product performance and profits. Accurate sales and inventory reporting is critical to creating your Black Friday inventory and pricing strategy.
Did you completely sell out of a product in 3 hours last year or did a seasonal product not perform as well as you expected? Did you hit your sales goals but not your profit goals?
Answering these questions will give you a better indication of what worked well last year, versus what didn't. While changing shopping habits, trends, and products change, starting with last year's successes will lead you in the right direction.
For instance, maybe you set an amazing deal on a popular game expansion pack last year and had a high sales volume in-store but didn't see as much success with online sales. Perhaps it blended into the rest of your products and this Cyber Monday you'll know to promote it on your home page and link it in your email campaign.
Historical reporting is good for more than just your product assortment and pricing strategy. It can ease decisions like staffing schedules based on your busiest times over the last few years. On the other hand, if you noticed a lull over the last Black Friday weekend, plan an in-store event during that time to keep traffic up.
Many e-commerce and POS platforms have basic reports, however, integrating with an inventory management software will unlock more insight. Consider a reporting platform with real-time data, sales and inventory reports, and multi-channel reporting like Thrive Inventory.
Thrive Inventory's powerful reporting capabilities guides users with the data to make smarter product, pricing, and even staffing decisions for Black Friday and Cyber Monday.
Get Your Free 2022 Holiday Readiness Kit
Don't miss out on profits this holiday season! Curate a winning product assortment, create competitive promotions, and check out more customers with our comprehensive guide.
3. Identify What Products You Want To Focus On
Once you know what products and categories performed best last year, you can start inventory planning for this year. But you shouldn't stop there. Here are some more places to inspire what products you should highlight and set the lowest prices on for the holiday season:
Search

Google Trends

for insight on what consumers are shopping for this year

Ask your vendors for top-selling products you might not have in your inventory

Scroll through your social media platforms and see what brands and shoppers are posting about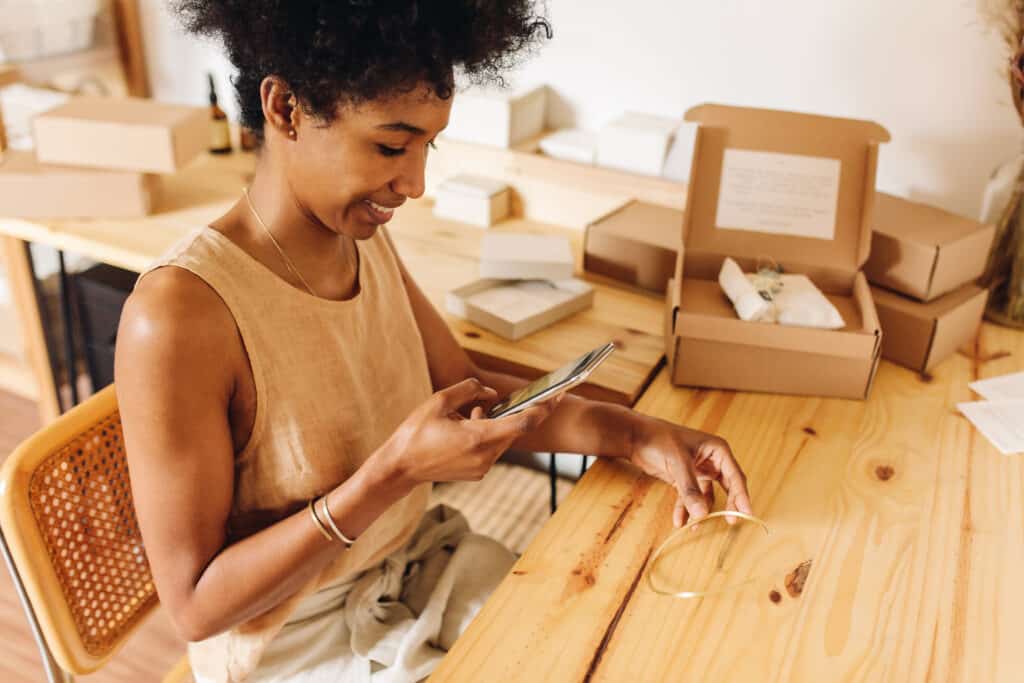 This list of products should be at the forefront of your Black Friday and Cyber Monday strategy. Create the best promotions for these products so shoppers choose your store over others, display these products in your storefront window or e-commerce homepage, and showcase them in all your marketing material.
4. Anticipate Long Lead Times
Now that you know what to stock, it's time to make sure you're tracking order deadlines, shipping timelines, and changing product costs.
Check-in with your vendors
Proper vendor management is essential for any small business, especially as the holiday season kicks off. Keep notes throughout the year, like when you can get certain products at a discount or if a vendor offers 2-day shipping but takes 3 days to prepare an order, to help set expectations.
Most importantly, through Black Friday weekend organized vendor management will minimize expected supply chain disruptions so you never lose out on a sale because of inventory shortages. Having product available is one of the best ways to gain loyal customers this holiday season and compete with other retailers.
Thrive's inventory management system helps small businesses automate vendor management. Bulk upload key vendor information, organize vendors with tags, such as "shipping discount," and have instant visibility on how your suppliers' products are performing during Black Friday.
Review your re-order levels to reflect the holiday demand. While a pair of shoes might typically need to be restocked every 3 months, during the holidays it may increase to every 5 weeks. Stay ahead of stock-outs by increasing your re-order levels, or PAR levels, for your most popular products during the holidays.
Automate your replenishment schedule
Once the holiday season begins your inventory should run like clockwork. Thrive Inventory users save time re-ordering by accessing stock forecasting reports and automatically assigning low-stock products to a purchase order. Thrive even sends purchase orders via email to your vendors directly in-app. That means always knowing exactly what to order and when to order it for your Black Friday shoppers.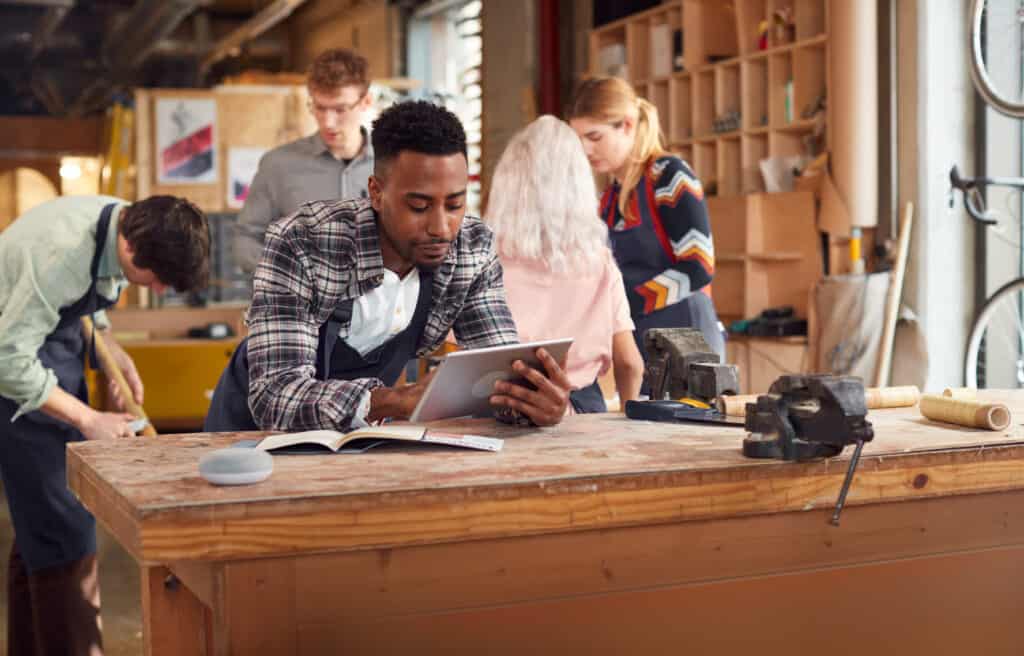 5. Sync Your Sales Channels
The customer experience during the chaotic holiday weekend is key in the eyes of the shopper. One of the best ways to mitigate Black Friday inventory problems is by syncing your stock counts between your online store and storefronts. That way you never have to worry about losing a sale by overselling on one channel.
The easiest want to do this is to centralize your product catalog and stock counts across multiple sales channels with an inventory management system like Thrive Inventory.
Best Practices To Avoid Black Friday Inventory Problems
Make sure your warehouse or back office is organized for the holiday rush. Seasonal items and best-selling products should be the easiest to access.

You're likely to have an influx in holiday sales so consider temporarily expanding your fulfillment center to avoid shipping delays.

Train your employees on strict inventory management processes so your team isn't wasting time re-counting products or fulfilling orders.

While your first priority is getting ready for Black Friday sales, the holiday shopping doesn't stop there, use these practices all season long.
Set Your Business Up For Success All Holiday Season Long
Taking the time to think through your inventory management strategy won't only benefit you Black Friday Cyber Monday weekend, but all season. Even though you're likely to encounter a few hiccups along the way, you'll have a solid foundation to meet your customer's needs.