Even more so than last year, the gap between in-store and online shopping will shrink for the 2022 Black Friday Cyber Monday week. It's not that consumers prefer one method over the other, it's that they want more options with how they interact with you. That could mean engaging with you during a private in-store event and buying products online via an SMS promotional text.
The most successful businesses this Black Friday Cyber Monday will kick off a marketing strategy that crosses multiple channels. Consumers are hunting for the best deals while experiencing product overload during the holiday season, here are a couple of proven and new ways to make your business stand out in the crowd.
Proven Black Friday Cyber Monday Marketing Strategies
1. Use email marketing to send out major Black Friday deals
Think again before sending out the normal 30% off coupon and create deals that are so irresistible and unique that shoppers won't pass you by. Some of our favorite Black Friday promotions for email include receiving a free gift at checkout or the chance to win a grand prize.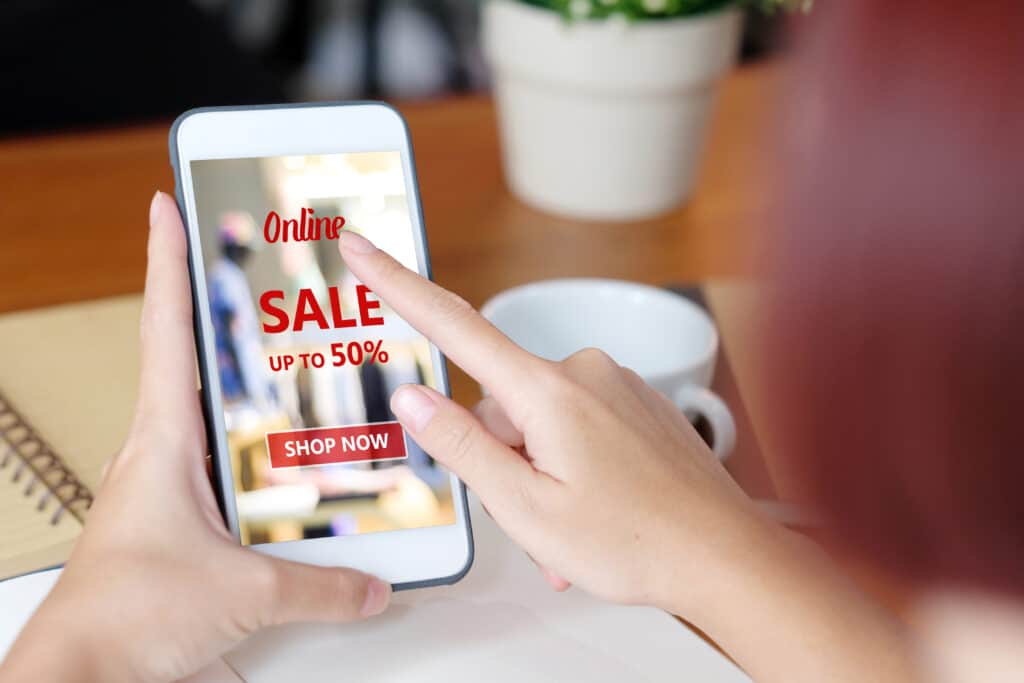 Build your email marketing campaign weeks (yes weeks) in advance of Black Friday Cyber Monday to get shoppers excited about your deals. Email is the best platform to connect directly with consumers so make the most of it with subject lines they can't help but click on with deals or events that will be top of mind when the holiday weekend kicks off.
2. Optimize your store for online sales
Prepare your retail e-commerce store for customers who prefer online shopping. Increase online traffic with advertising campaigns on social media and add special offers to any products you listed on channels like Google Shopping. Ensure that your ad landing page loads quickly and highlights your Cyber Monday sales to increase conversion. Choose a method for grabbing visitors' attention right away, this could be pop-ups, a website banner, or live chat. 
Multi-channel retailers should consider promotional ideas for your online store that are different than deals happening in-store. This strategy encourages customers to shop in both places so they don't miss out on any savings. For instance, promote a BOGO sale in-store and an early access campaign online.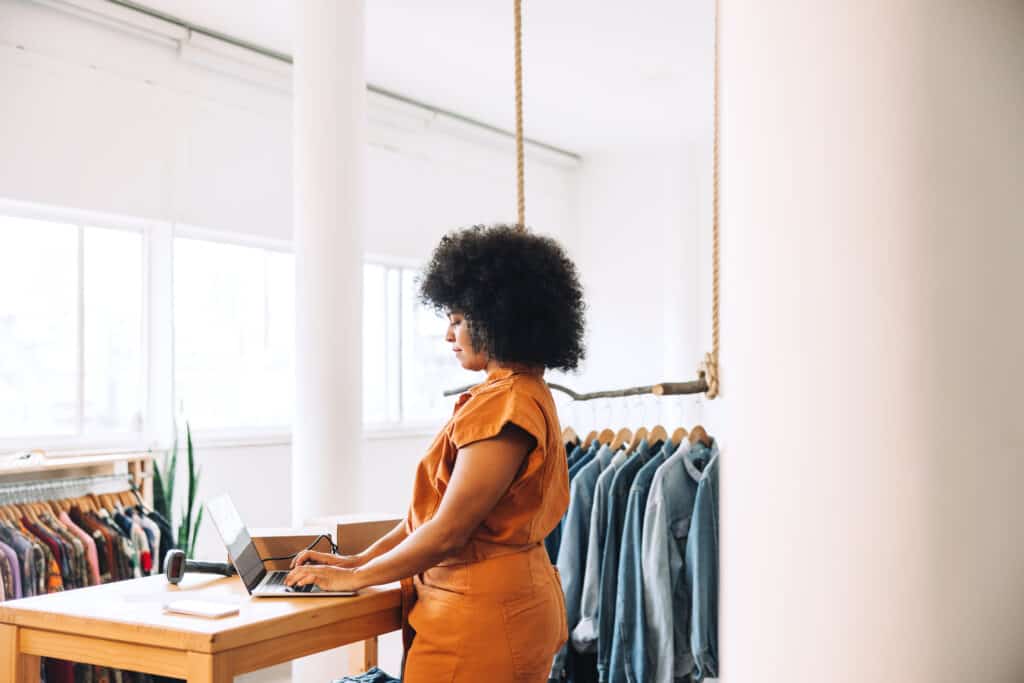 Running a Black Friday Cyber Monday sale for storefront and online retailers can seem intimidating, that's why we recommend using an inventory management software that connects your sales channels. Thrive Inventory automatically syncs your stock counts for all your retail locations and e-commerce store. That means you don't have to worry about overselling a product online once it sells out in-store.
3. Promote holiday gift guides
Gift guides are an easy way to increase Black Friday sales without needing a salesperson. Write up gift guides for your website and in-store print-outs to help potential customers find something for everyone on their list. We recommend a mix of broad lists, like "top Christmas gifts for mom" and specific ones, like "gift ideas for the at-home car mechanic."
Gift guides are also a great way to upsell and cross-sell products in your store. Highlight different product variations and complimentary gift ideas to increase your average ticket sales. Don't forget to make it visual so you can share it on social media and via email marketing.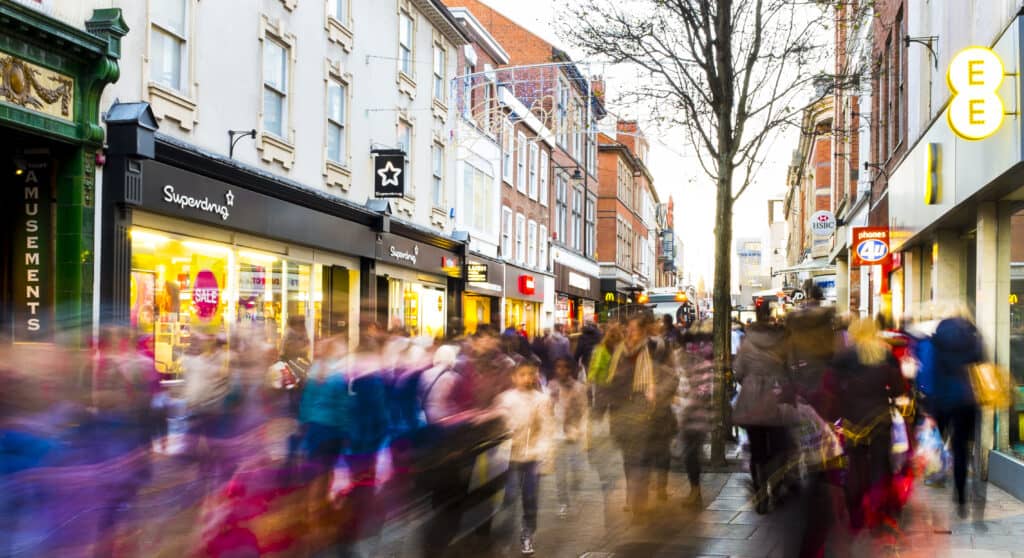 New Black Friday Marketing Ideas to Try This Year
1. Team up with your neighbors for the holiday season
The past few years have proved the power local businesses have when supporting each other. Your Black Friday marketing strategy should amplify that and aim to keep as much business as possible in your community.
The simplest way of doing this is sending shoppers next door if you don't carry what's on their list. Chances are your neighbors will return the favor with new customers. Want to team up with other local business owners to create a unique Black Friday promotion? We've seen great success with streets creating punch cards that give customers a free gift if they visit every participating store.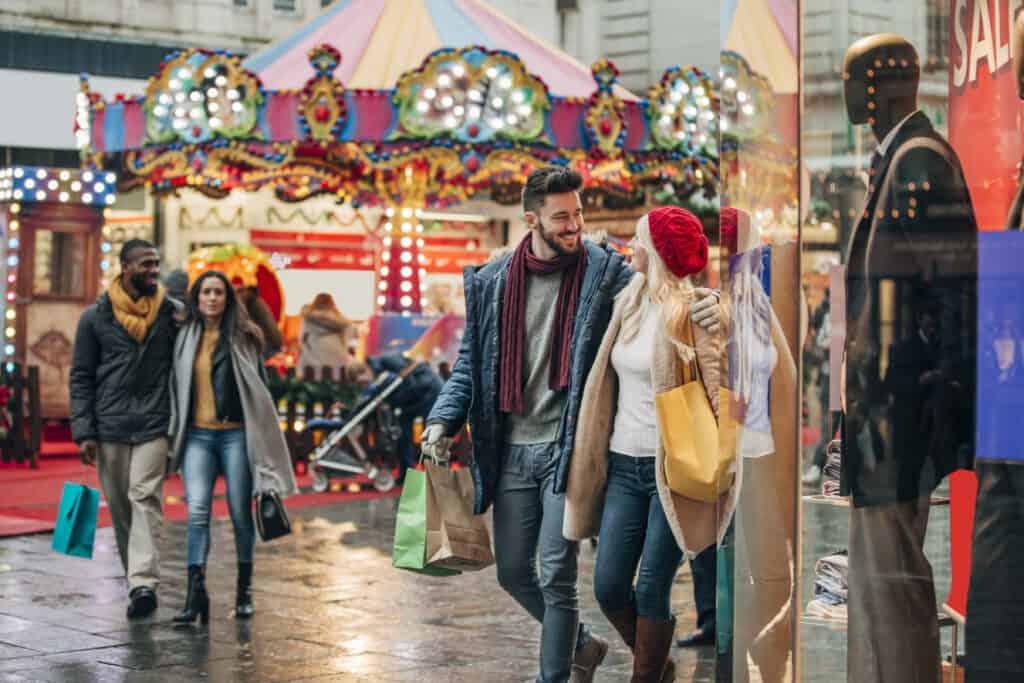 Other small businesses have come together for Black Friday and Small Business Saturday events. Think about organizing live music on the block and free treats in the stores to encourage holiday shoppers to stick around your street.
Online stores can participate too! Add some website copy after a shopper checks out with a list of your favorite places in the area for more holiday gifts or create a blog highlighting these businesses. Let the featured businesses know and see if they're open to displaying a small pile of your business cards by the register.
Or is there a local business that compliments your products? See about hosting a pop-up store in their space during the Black Friday weekend to share customers.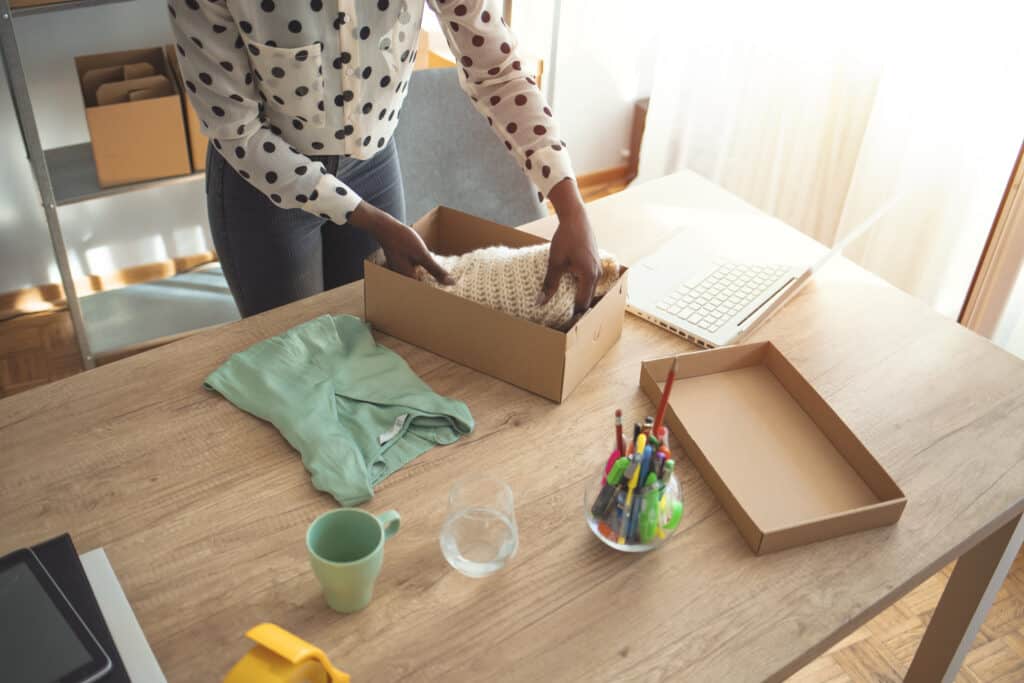 2. Offer free shipping in-store
During the Black Friday Cyber Monday weekend, not having free or two-day shipping can be a deal-breaker. Consider offering free shipping for in-store shoppers but sending gifts elsewhere. If your customers know that shopping with you can be as convenient as shopping online, they'll be more likely to convert.
3. Create a retailtainment experience
Hosting an in-store experience is a fun way to increase traffic, engagement, and brand awareness which in turn boost sales.
This is also a great Black Friday and Small Business Saturday marketing strategy to keep shoppers engaged, even in long lines. The key to retailtainment is making it interactive, unique, and Instagramable or TikTok worthy.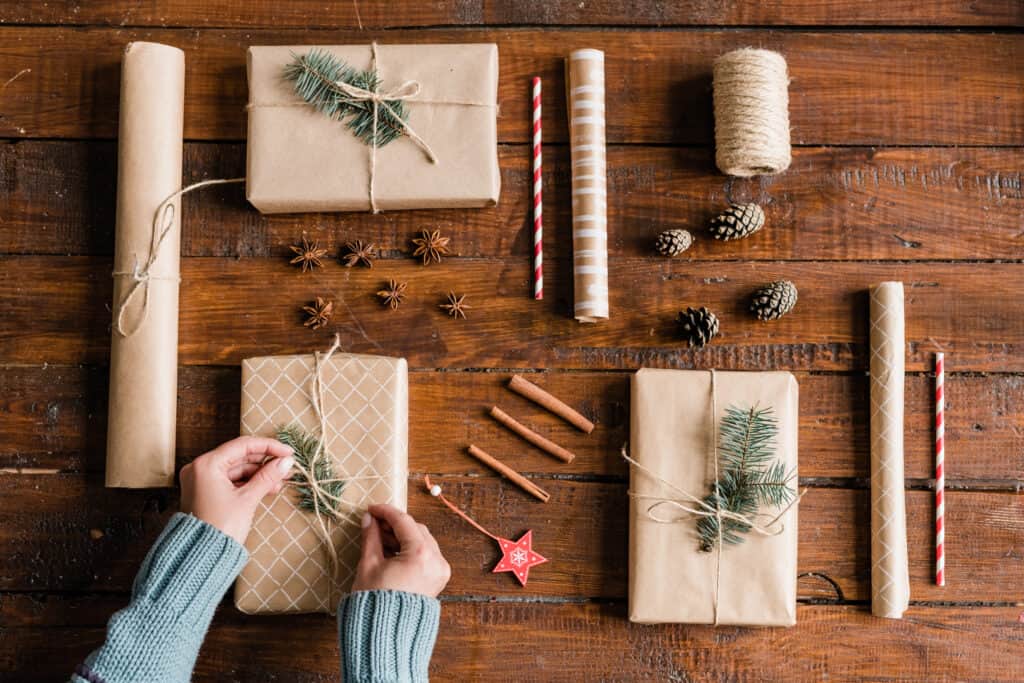 Here are a couple of our favorite Black Friday retailtainment ideas:


In-store gift wrapping station with fun papers, ribbons, and tags

Interactive displays for shoppers to pose in (think a North Pole photo booth with your winter accessories shoppers can use for props)

Holiday music karaoke (check out geotagging filters for Instagram and create a hashtag for your business)

A holiday shopping VIP event (we love a good make-your-own hot chocolate bar during an early access shopping event)

Donate a percent of your profits to charity that aligns with your business or serves your community
Instead of offering deep Black Friday discounts to your customers, use the week as a chance to give back to your community. Customers are very receptive to supporting brands that give back, especially if it doesn't drive up their prices.


Promote a Black Friday Cyber Monday marketing campaign that donates a certain percentage of your sales to a charity that aligns with your brand mission. Another idea we love is hosting a holiday food or clothing drive and giving participants a coupon for their next purchase.
Get Your Free 2022 Holiday Readiness Kit
Don't miss out on profits this holiday season! Curate a winning product assortment, create competitive promotions, and check out more customers with our comprehensive guide.
5. Curate unique gift baskets
One of our best Black Friday marketing strategies is creating gift baskets that shoppers can't find anywhere else. This could be anything from a "weekend in the woods survival basket" with all the essentials or a box of artisan soaps with a limited-time holiday scent you can't buy on the store floor. Your customers will love gifting (or keeping) a unique product and you can easily increase their average order value.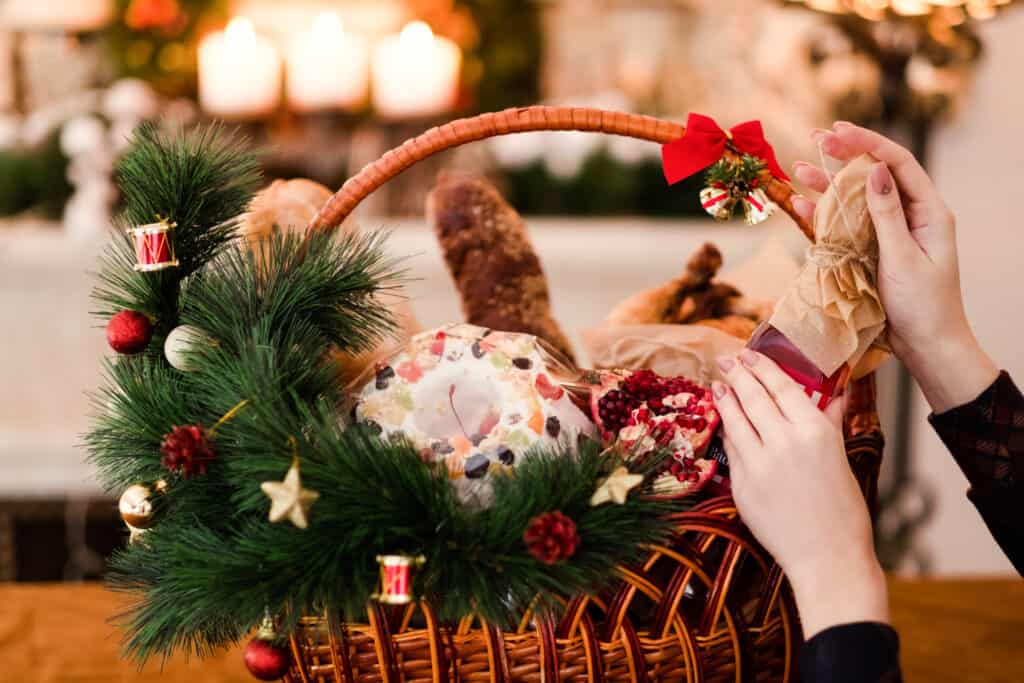 When building your gift baskets, keep them themed for the holidays and in the same product category. Additionally, include one or two slow-moving products to clear them out quicker.
Note that building gift baskets will reduce the stock for certain products available on your store floor. Using an inventory management system that tracks gift baskets means real-time stock counts for all your bundle components.
6. Start building your SMS list now
SMS campaigns really lend themselves to Black Friday deals because it builds a sense of urgency for shoppers. Your SMS campaign should be reserved for time-sensitive offers and special perks just for your text list, such as a flash sale or early access to product releases.
But first, getting people to sign up for your text list will need some sort of incentive, like a one-time discount code. Start building your list months in advance so you can cut through the clutter and get directly in front of as many shoppers as possible at the right moment.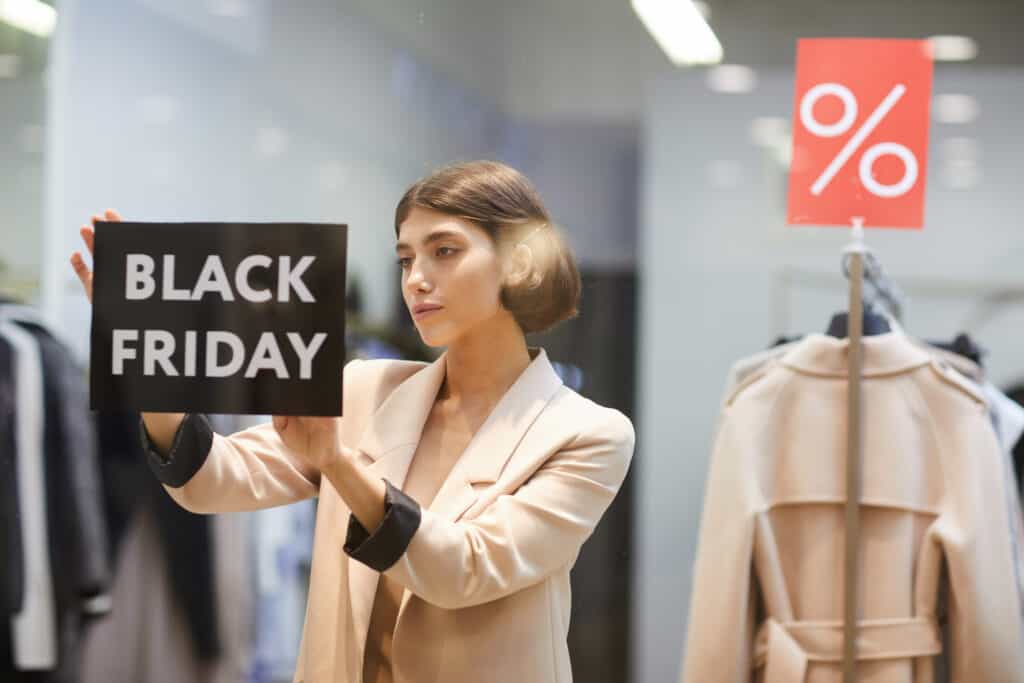 Tips for a Successful Black Friday Marketing Campaign
Build a Black Friday marketing calendar – this is a great way to make sure you're promoting through multiple channels without bombarding your audience

Launch your Black Friday marketing strategy early with social media posts, email campaigns, store signage, and more to build anticipation

Make sure your strategy isn't "one-size fits all" – your Black Friday marketing campaigns should have content that reaches new shoppers, loyal customers, and ones that have gone quiet

Don't end your Black Friday deals right after the weekend, keep them going for a longer sales period through the New Year to capture shoppers with gift cards or returns
Keep Black Friday Customers Year-Round
While a shopper may have come for the unbeatable Black Friday Cyber Monday deals, the holiday shopping season is long. One of the best ways to turn seasonal shoppers into loyal customers is to show them what sets you apart and to do the little things right. From adding gift tags to every purchase to offering set-up support for your products, find ways for customers to remember you long after your Black Friday sale.